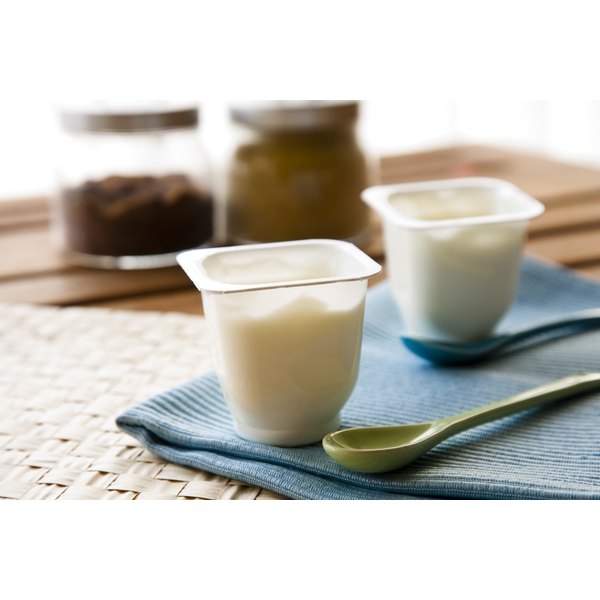 The Dannon Company makes a wide variety of yogurts and yogurt-derived food products in dozens of flavors and serving sizes. In addition to Dannon's fruit-on-the-bottom, Light & Fit and plain yogurts, Dannon makes all-natural, Greek-style, probiotic-enhanced Activia and kid-friendly varieties such as Danimals. Flavors vary from plain to the exotic, such as Pomegranate Berry. Fat content, calories and other nutrition facts vary; however, all varieties are rich in several important nutrients.
Original and All-Natural
Dannon's fruit-on-the-bottom yogurt comes in 10 fruit flavors. One 6-ounce container provides 150 calories, 1.5 g fat, 6 g protein, 26 g carbohydrates and 95 mg sodium.
Dannon All-Natural yogurt is offered in four flavors including vanilla and coffee. One serving contains 150 calories, 2.5 g fat, 7 g protein, 25 g carbohydrates and 100 mg sodium.
A 6-ounce serving of Dannon low-fat plain yogurt has 100 calories, 2.5 g fat, 8 g protein, 12 g carbohydrates and 155 mg sodium. The nonfat plain 6-ounce cup offers 80 calories, 0 g fat, 9 g protein, 12 g carbohydrates and 120 mg sodium.
Specialty Yogurts
Dannon's Light & Fit is sweetened with a non-nutritive sweetener and comes in roughly 20 flavors. These are available in a variety of sizes in addition to individual 6-ounce containers. One serving provides 80 calories, 0 g fat, 5 g protein, 16 g carbohydrates and 75 mg sodium.
Dannon's Greek-style yogurt comes in 5.3-ounce containers in five flavors, such as honey and strawberry. They are fat-free but calories range from 80 to 140, while protein ranges from 12 to 15 g and the carbohydrates number 6 to 23 g.
Dannon makes specialty yogurts such as Danimals, marketed for children. A yogurt marketed toward women with digestive issues, Activia, features the added probiotic culture Bifidus Regularis.
Vitamins
Dannon yogurts are a good food source of riboflavin, or vitamin B2 and vitamin B12. On average, one serving meets 25 and 15 percent of the recommended daily value, or DV, for each nutrient, respectively. Riboflavin is necessary for energy metabolism. It also supports the production of hormones, neurotransmitters, called brain chemicals, and red blood cells. Vitamin B12 is also needed for producing red blood cells, supporting the nervous system and plays a role in energy metabolism and cardiovascular health.
Minerals
Dannon yogurts are rich in the minerals calcium and phosphorus, meeting on average of 30 and 20 percent of the DV for each, respectively. Calcium and phosphorus play a significant role in building and maintaining strong bones and teeth. Calcium regulates muscle contraction and blood pressure, and phosphorus is needed to activate certain proteins and B vitamins. It is also a component of all cell membranes.
Certain varieties of Dannon yogurt meet over 10 percent of the DV for potassium, making it a good food source of this mineral. Potassium helps promote healthy blood pressure, is important for muscle contraction and regulating heartbeat.
Expert Insight
According to an April 1998 review of brand-name yogurts published by the Center for Science in the Public Interest, or CSPI, if you are looking for a healthy yogurt, choose one that contains "live active cultures" and is low in sugar and calories.
CSPI's recommended "Best Bites" were plain yogurts with no sugars or artificial sweeteners that met at least 25 percent of the DV for calcium in a 6-ounce serving. Dannon fat-free and low-fat plain yogurts made the "Best Bites" list. Several other Dannon yogurts, such as Danimals, blended non-fat fruit yogurts and low-fat fruit-on-the-bottom were listed as "honorable mentions" because they contain sugar or artificial sweeteners and less calcium.