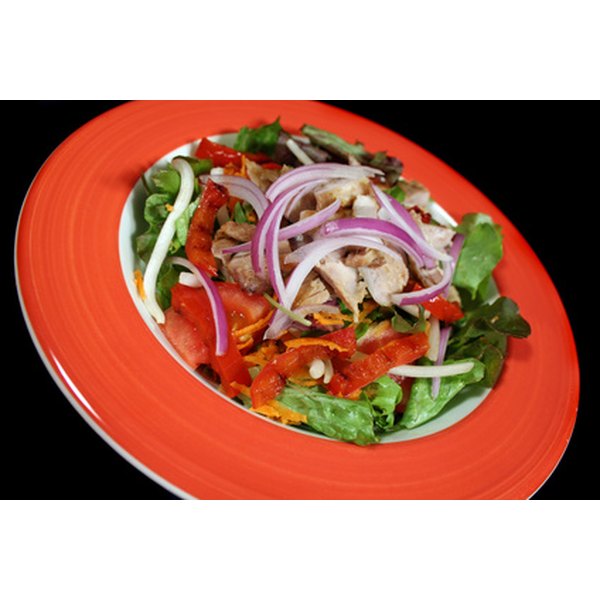 Lap-Band surgery, also known as laparoscopic adjustable gastric banding, is a surgical procedure used to help obese individuals and people with significant obesity related health risks manage their weight and wellness. According to Brigham and Women's Hospital (BWH), consuming appropriate, doctor-recommended calories and portion sizes after bands are in place is crucial. Foods rich in protein and dietary fiber can help manage increase satiety (fullness) and ease the process of consuming a calorie-restricted diet.
Protein-Rich Foods
Protein supports lean tissue development, tissue repair and energy maintenance. It also supports blood sugar balance, which might contribute to hunger management. According to the book "Eating Well After Weight Loss Surgery" by Patt Levine and Michele Bontmpo-Saray, lean, protein-rich foods promote wellness, energy and satiation after bariatric surgery. Valuable sources of lean protein include egg whites, white-meat poultry, tofu, legumes and low-fat dairy or soy-based products. BWH suggests four servings of protein daily for people who have had a Lap-Band for six weeks, or whenever the band is adjusted. In general, between four and nine protein servings are recommended throughout weight-loss maintenance. One serving of protein is equal to 2 oz. of poultry, fish or cheese, two eggs, four egg whites or 1/2 cup tofu or low-fat cottage cheese.
Fruits and Vegetables
Fruits and vegetables provide valuable vitamins, minerals and antioxidants, which help support a strong functioning immune system. Because fruits and vegetables are also rich in water and dietary fiber, they enhance satiation. As low-calorie foods, fruits and vegetables can reduce feelings of deprivation, as acceptable portion sizes are larger than those of calorie-dense foods, such as candy or nuts. BWH suggests fresh fruits and vegetables most often, as they provide rich amounts of nutrients without added sodium or other preservatives.
Most people with a Lap-Band fare well with two to four servings of fruits and vegetables daily. One serving of vegetables contains approximately 25 calories, the amount found in 1/2 cup cooked vegetables or vegetable juice or 1 cup of fresh vegetables, such as spinach, broccoli, cauliflower, asparagus, bell peppers or green beans. Non-starchy vegetables, such as iceberg lettuce, celery, cabbage and cucumbers, are considered "free," or acceptable in limitless amounts. One fruit serving contains roughly 60 calories. Examples include one apple, 1/2 cup unsweetened applesauce, 3/4 cup berries, 1/2 banana, 1/2 cup fresh fruit juice and 1/4 cup dried fruit.
Whole Grains
These provide rich amounts of vitamins and minerals, such as B vitamins, magnesium and iron. They also provide dietary fiber and promote greater satiation than refined carbohydrates, such as enriched white bread and added sugars. According to BWH, doctors generally recommend five servings of carbohydrates, or "starches," daily for people with a Lap-Band. One serving of whole-grain carbohydrates contains approximately 80 calories. Examples include one slice 100 percent whole-grain bread, 1/2 cup cooked oatmeal, 3/4 cup whole-grain cold cereal (unsweetened), 1/2 cup cooked whole-grain pasta and 1/3 cup cooked brown or wild rice. Whole-grain hot cereal also provide a nutritious, filling food options after surgery when only soft foods are permitted.