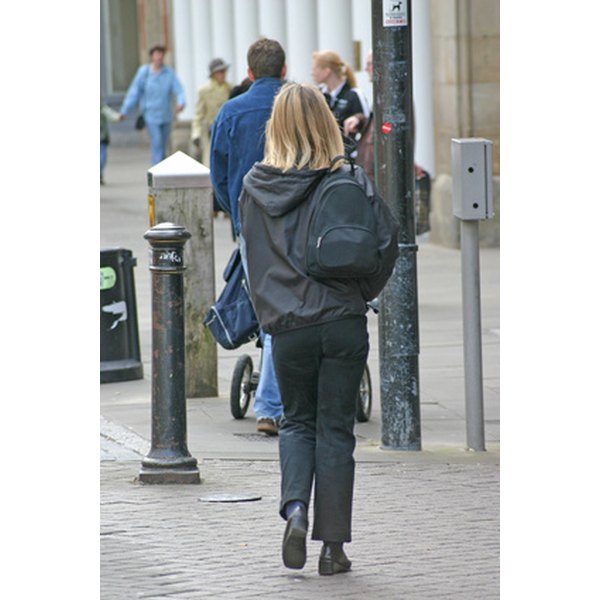 Whether you are hitting the trail or just walking to class, a backpack can be a convenience or a source of troublesome back pain. You may experience pain if you overload your pack, causing excess strain. Fortunately, there are a few things that can help you prevent back pain and muscular tension when using a backpack.
Children and Back Pain
Children are susceptible to back pain from wearing packs. To prevent pain, make sure that your child is wearing a pack designed for comfort. According to the Nemours Foundation's KidsHealth website, this means choosing a backpack with padded shoulder straps and back for added comfort. KidsHealth also recommends that your child carry no more than 10 to 15 percent of her body weight in a pack.
Proper Fitting
For backpacking, proper fitting is essential for your comfort. An ill-fitting pack can cause back pain even if it is loaded properly. To ensure the proper fit, you want to make sure that you have the correct size backpack. The editors of Backpacker magazine recommend measuring your torso to help you select the right size.
Cautions
It is important when you wear a backpack that you maintain correct posture. If you arch your back, you may add extra strain on your lower back, causing your spine to compress in an unnatural way. You should always wear your pack over both of your shoulders rather than just one, otherwise you will inadvertently begin to lean to one side. Over time, this will cause strain in your upper back and shoulders. The type of backpack you use may also contribute to your back pain. For example, an internal-frame backpack used for hiking may cause you to lean forward.
Acclimation
If this is the first time you will be using a backpack, it will help you avoid back pain if you can acclimate yourself to the strain of carrying a pack. Hikers should practice with increasingly heavier loads. You should also increase the strength of your legs with exercises such as squats and lunges to help your body handle the added weight.
Prevention/Solution
Wearing a backpack can cause the muscles of your upper back to tense up as they push against the weight of your pack. Stretches to relieve muscle tension can help you avoid back pain. You may want to add some back-targeted yoga stretches to your exercise routine to reduce stress. You may also want to consider using hiking poles next time you go on an extended backpacking trip.