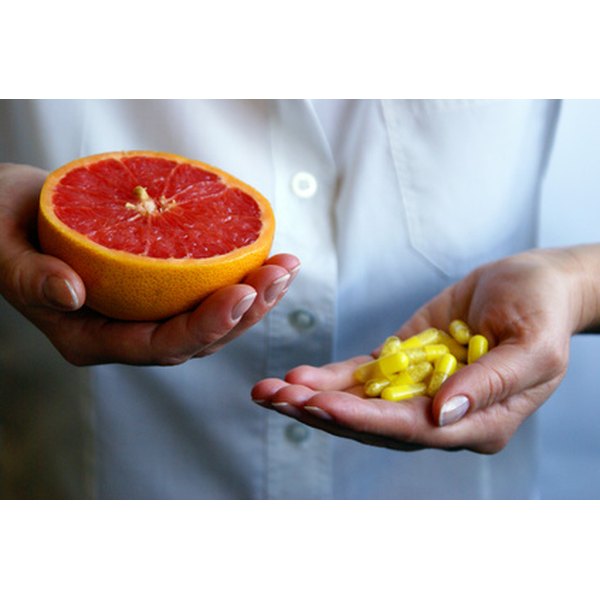 The U.S. National Library of Medicine defines antioxidants as substances that may protect cells from the effects of free radicals. Free radicals are toxins produced when your body breaks down food or toxins absorbed from the environment such as tobacco smoke and radiation. You can find antioxidants occurring naturally in many foods such as fruits, vegetables, nuts, fish and some meats. In 2010, the best-selling antioxidant products at leading supplement retailer GNC.com are Co-enzyme Q10, Trans-Reservatrol and grape seed extract.)
CoEnzyme Q10
Your body naturally produces this nutrient, which acts as an antioxidant by protecting cells from damage and also plays an important part in your metabolism. You may have deficient levels of CoQ10 if you suffer from heart conditions, muscular dystrophies, Parkinson's disease, cancer, diabetes or HIV/AIDS. The best-selling brand is the GNC brand CoQ10, which sells for around $30 a bottle in 2010.
Trans-Reservatrol
Biotivia Transmax Reservatrol 500 is an antioxidant with 1,000 times the potency of the active antioxidant ingredient found in red wine and the best-selling Trans-Reservatrol on the market. In addition to the benefits of an antioxidant this product is advertised to boost energy, reduce appetite and provide better sleep. Sixty capsules sells for around $75 in 2010.
Grape Seed Extract
You can find consistency in the third-best-selling antioxidant product because each batch of GNC Brand Grape Seed Extract provides a uniform, measurable level of the active ingredient. You can use Grape Seed Extract for conditions such as high blood pressure, high cholesterol and poor circulation. In 2010, this product sells for around $37 for 60 capsules.