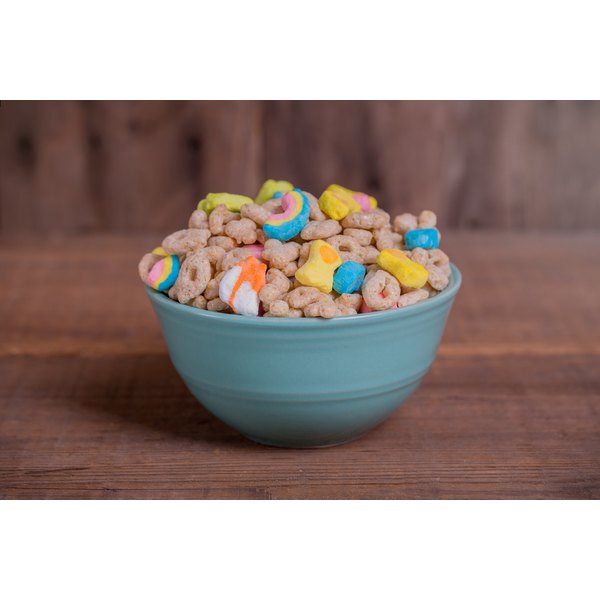 The healthy breakfast struggle just got way more real. As a breakfast option, oatmeal has always been on the healthier side of things. That is until the cultural zeitgeist that is food mashups got ahold of it and covered it with tiny rainbow marshmallows and cinnamon sugar. Yup, it has finally happened: 2017 marks the debut of Lucky Charms and Cinnamon Toast Crunch in instant oatmeal form.
While this may sound like your inner 7-year-old's dream come true, eating sugary breakfast cereals in oatmeal form doesn't make them the least bit healthier — no matter what General Mills would like you to believe. Just a quarter-cup serving of Lucky Charms cereal has 11 grams of sugar, or 19.1 to 43.6 percent of the recommended daily limit. Meanwhile, one serving of Cinnamon Toast Crunch cereal has nine grams of sugar. We're guessing the oatmeal version of the two products are similarly sugar-packed.
While a breakfast full of sugar will give you initial energy in the form of a sugar high, it will only be a matter of time before you are hungry and tired again. Instead of stuffing your face with decidedly unhealthy breakfast foods like marshmallow-topped oatmeal or Girl Scout Cookie cereal (yes, it exists), try a low-sugar and high-protein breakfast like this creamy berry quinoa parfait. Alternatively, you can make your own overnight oats packed with chopped nuts, shredded coconut, flaxseed, cocoa nibs and dried fruit.
If you're low on willpower and plotting a run to the grocery store to look for this breakfast cereal-flavored oatmeal, we have some news that will help fight the urge. The oatmeals are only available in Canada for the time being.
And while some people may be willing to go the extra mile to get their hands on the stuff, we're happy there's a border between us and this deliciously evil-sounding oatmeal.
—Erin Mosbaugh
Erin has made telling stories about food her profession. You can find those stories in Food & Wine, LA Weekly, Serious Eats, KCET, Robb Report and First We Feast.