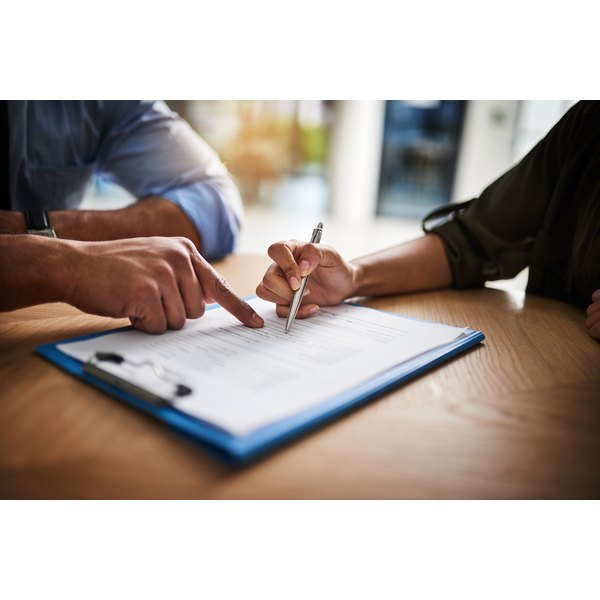 Americans spend billions of dollars on health care costs each year. Much of that money is in the form of health insurance – without it, you could spend $100 or more for a trip to a doctor to treat a simple cold. Health insurance comes in all shapes and sizes to suit most people's needs; however, understanding your policy and benefits might be confusing if you don't know what all the terms mean. Once you get a health insurance policy, your provider issues you a policy number with which you can identify your account.
Tip
Health insurance provides you with coverage for doctor's visits, emergency care and other procedures for a set monthly cost. While there are different types of health plans, you are always issued an insurance policy number by your insurance provider used to identify your account.
Health Insurance
Health care costs can be expensive, with the potential to cause financial troubles and even bankruptcy. Health insurance provides you with coverage for doctor's visits, emergency care and other procedures for a set monthly cost. There are many different types of health insurance plans, including health maintenance organizations (HMO), preferred provider organizations (PPO) and exclusive provider organizations (EPO). Many employers offer health care benefits to employees and their families. The employer generally pays a portion of the coverage costs; the rest is taken out of your paycheck. You can purchase health insurance as an individual; however, this tends to be more expensive than a group policy.
Policy Numbers
Your health insurance provider creates an account for you when you purchase a policy. You'll be assigned a policy number, which is similar to an account number or ID number. The policy number is used primarily for identification and billing purposes. When you visit a doctor or medical facility, the cost is billed to your insurance provider using the policy number. You can find the policy number on your insurance card. If your family members are on your insurance policy, they may also have their own unique policy numbers.
Group Numbers
If you purchased the insurance policy through your employer, you belong to a group insurance plan. You'll also see a group ID number on your insurance card. The group ID isn't the same as your policy number – everyone in your organization who participates in the insurance plan shares the same group ID number.
Lost Card
Your insurance card lists the vital information about your policy in addition to your policy ID number. If you lose the card, you need to let your insurance company know right away. The company will cancel the current policy number and issue you a new number and a new card; however, your plan and coverage benefits will remain the same. It might take a little time for your new card to come, so if you have to visit a doctor or medical facility in the meantime, the office will need to contact the insurance provider directly for your plan's information.