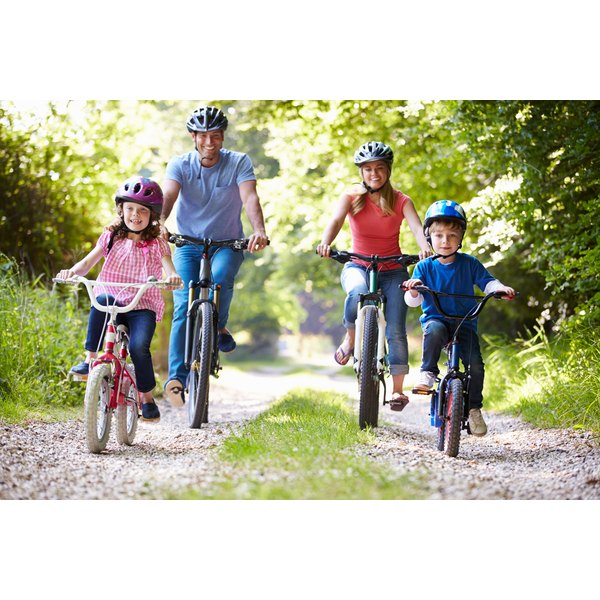 Going through the same routine at the gym or toiling the usual running path can become predictable and dull, stealing the enthusiasm you once had for exercise. And returning home sweaty, smelly and exhausted isn't likely to make working out appealing to your children. But staying fit doesn't have to be a time-consuming chore that's done solo. The American Heart Association recommends 30 minutes of exercise five times a week, but pumping up the volume on everyday tasks can help everyone earn those fitness minutes without even realizing it.
Try Something New
Have you been curious about a new fitness class or wanting to give the latest version of yoga a try? Check it out with the kids, suggested Jolene Goring, certified personal trainer and fitness director of Geo-Fit Personal Training in Scottsdale, Arizona. "Sign up for a dance class, go skiing or play laser tag. Find a new experience that is full of energy."
Related: Jolene Goring; Fitness Director, Geo-Fit Personal Training
Keep Moving
Doing your best to be in motion and encouraging your son to do the same goes a long way toward creating an active environment that lasts a lifetime. "Don't fall into the parent trap of telling your kids to sit still," Goring said. "Tap your fingers, shift your weight from side to side. Fidgeters – those who engage in constant minor activity – can burn around 100 extra calories daily."
Walk, Don't Wait
Arriving at a doctor's appointment extra early or discovering that your daughter's dentist is running behind schedule doesn't mean you're stuck with a magazine and coming up with ways to keep fussiness at bay. "Walk around the building if you have a long wait," Goring said. "Most receptionists can give you an estimated wait time. It's much better than being stuck in a cramped waiting room."
Boogie With Your Broom
Cleaning is not a chore anyone looks forward to. But getting everyone involved will not only get your house clean faster, it can also become a fun workout. Turn your home into a family-friendly club by turning up the volume on the stereo. "Listen to music that energizes you and dance around with your kids. Cleaning the house counts as activity," Goring said. "Make it a challenge with the kids to see who can pick up the most toys."
Research a Gift List
Planning gift shopping for upcoming occasions, such as birthdays or the holidays, is an opportunity to get some cardio in. Take your children window-shopping and do lots of looking. "Walk the aisles and look at the items," Goring recommended. "Half the fun is deciding what to put on the list."
Adopt a Routine
Make the twice-daily dog-walking session a group effort. Change the route to add variety and increase the length or speed to create a different workout that keeps your bodies challenged. Don't have a dog? Apply the strategy to pre- or post-dinner walks or bike rides around the neighborhood and make those a daily habit.
Stroll to Shop
Regular supply-shopping errands become mini-strength training and aerobic workout sessions when you park your car in a space far from the doors. Kick it up a notch when the weather is nice, recommended Rebecca Kovacs, a fitness instructor at Scottsdale Community College. "Whenever possible, walk with the family to the store to get groceries and let everyone carry a bag back home."
Game Time
Games aren't just for the kids. Play interactive contests – video or old-fashioned board games – or participate in activities that involve movement before or after meals. "Let each member of the family take turns choosing an activity they enjoy for that day," Kovacs said. "This can be a great way to include all family members and create more of a bonding experience for everyone."
On the Hunt
A scavenger hunt transforms the traditional weekend visit to the nearby park or trails into an extended walking and climbing adventure. Apply the same strategy when visiting state parks or exploring new hiking territory. "Have scavenger hunts and look for nature items or identify particular landmarks each person has to tag," Kovacs said. "Then gather nature items and build a collage or scrapbook at home with your collections."
Make It Competitive
If your family is more tech-oriented, Kovacs suggested holding contests to see who has accumulated the most miles walked throughout the day by using pedometers or other devices on smartphones and MP3 players. "Or have contests to see who has burned the most calories throughout the day with doing their normal day routines."