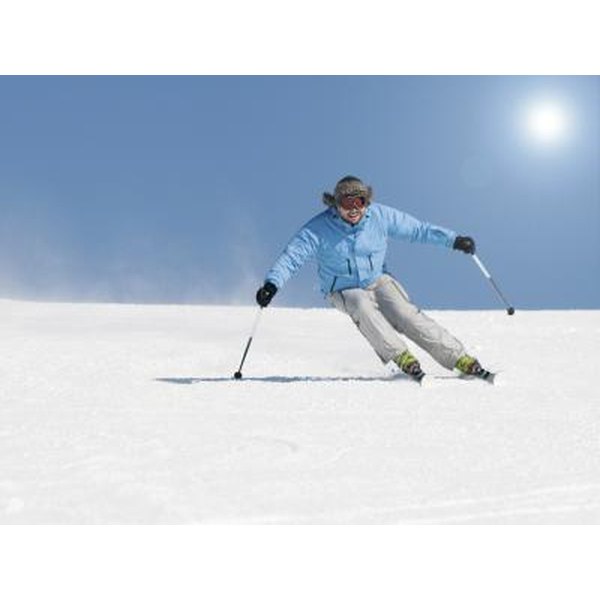 Skiing or snowboarding in flat-light conditions can be troublesome and sometimes dangerous. In overcast or low-light conditions, it is often difficult to distinguish terrain features and variations so it is important to wear sunglasses or goggles that amplify light and enhance contrast. When picking goggles for skiing or snowboarding in flat light, keep these tips in mind.
Thermal Lens
Fogging is a bothersome problem for goggle wearers and particularly so in flat light. Modern thermal lenses that feature dual layers are particularly fog-resistant. Many newer goggles have special fog-resistant coatings and care should be taken to not smudge or scratch these coatings.
Spherical Lens
A spherical lens has a curved shape that contours to the eye and face better than a flat lens. These lenses offer better peripheral vision, less distortion and reduced glare but generally cost more.
Lens Color
For flat-light conditions, pick a yellow or amber colored lens. This tint will amplify contrast and definition in flat light, but beware not to wear this tint in sunny conditions as the amplification of bright sunlight can result in eye damage.
During periods of mixed overcast and sunshine, choose a rose colored tint, which is more versatile and equally suited to bright light and flat light.
Filtered or Polarized Lens
Polarized lenses reduce glare dramatically. Filtered lenses actually block specific spectra of ultraviolet light, which results in enhanced contrast and definition. Both types of lenses are well-suited for on-snow use.
Interchangeable Lens
Many goggles offer the ability to exchange lenses. This is useful not only for replacing scratched or cracked lenses, but also for swapping lenses for different situations. Some modern sunglasses also feature interchangeable lenses.
Buying Goggles
Goggles are very much a matter of personal preference, with many manufacturers and styles to choose from. Select goggles that fit snugly and offer good range of vision.
Bearing in mind that models change from year to year, the following are good models for use in flat light:
Bolle Irex Light Vermillion Briko Photochromic Rose Scott Light Amplifier Smith Sensor Mirror or Yellow Oakley High Intensity Yellow or Amber Zeal Detonator PPX