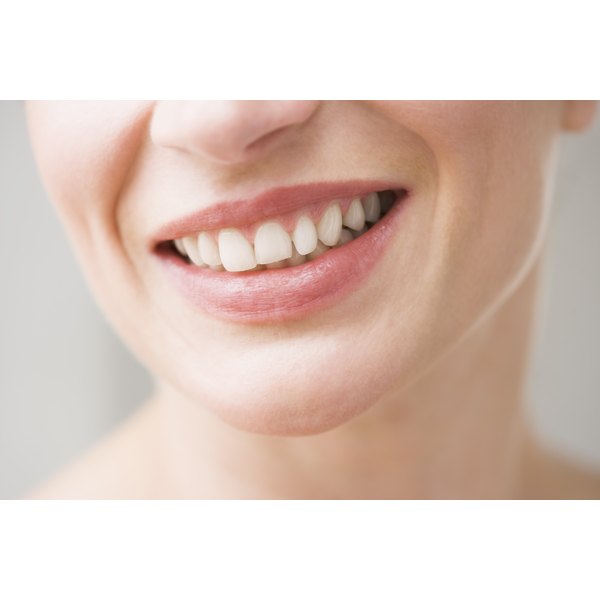 Dental bone loss, or teeth bone loss, can refer to the decay of the bone tissue in the teeth roots and jaw, and can be extremely problematic for dental health and cosmetic dentistry. Dentists may need to reverse bone loss in teeth to prevent further tooth decay and loss of teeth, to treat infections and gum disease or to better accommodate teeth implants or dentures. While there are a number of types of periodontal disease that can cause bone loss — also referred to as resorption — many causes of infection and decay are now both preventable and treatable.
Maintain good dental health habits and a healthy diet in general. Brushing and flossing regularly can help prevent periodontal disease and cavities, and thus tooth bone decay, while a healthy diet and lifestyle will boost your immune system and help the body resist infections in your teeth and gums. Some bone loss is also the result of osteoporosis, so a dietary supplement or prescription to treat osteoporosis may also prevent or reverse bone loss in teeth.
Keep teeth sockets healthy after extractions. It may be necessary for your dentist or periodontist to perform a socket preservation procedure after an extraction to reverse bone loss in teeth. This minor surgical procedure can remove any infected tissue that may have caused the need for the extraction, and reverse any resorption that has already taken place beneath and around the tooth.
Ask your dentist about a bone graft to reverse bone loss in teeth through surgical regeneration. Bone grafting adds bone and gum tissue to the affected area, allowing the bone tissue to attach to your existing jaw or teeth bone and generate new bone. Bone grafting may vary in recovery time and invasiveness of the procedure, depending on where the bone is grafted and how much tissue is added.
Get maxillary sinus augmentation, ridge augmentation or jaw reconstruction to reverse bone loss in teeth and create room for dentures or teeth implants. One of the major drawbacks of bone resorption is the fact that older people who have lost a lot of bone in the teeth and jaws also often need dentures, but the bone loss makes it difficult for the dentist to attach a bridge for dentures. Augmentation surgery by a periodontist can also accommodate new teeth implants.
Get dental or teeth implants from a periodontist to reverse the loss of one or two teeth, or the loss of root bone tissue. Teeth implants can not only replace a few lost teeth, but can also be used to hold dentures in place where other teeth are missing.