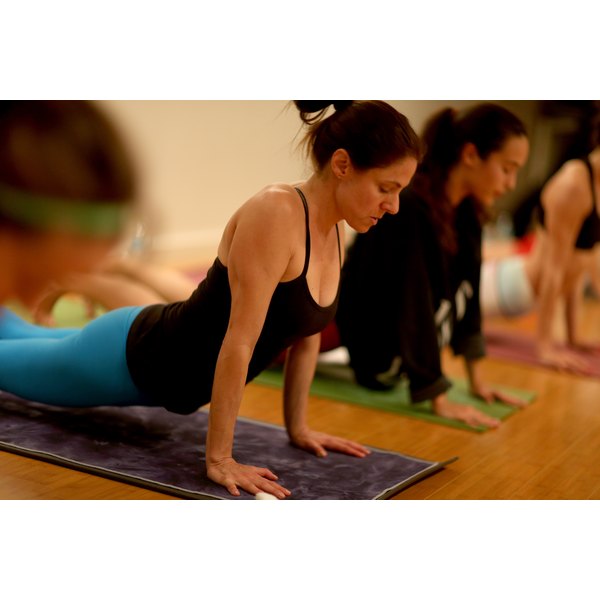 Bikram Yoga, which combines 26 precise poses in a hot setting, asks all of its potential franchise owners to apply through its website at www.bikramyoga.com. The application does ask if you're a certified Bikram Yoga instructor, and noted as of 2014 that franchises were not available in all states. Information about a nine-week instructor course is also on the company website.
Uniformity Goal
Once the application is in, the company does an initial evaluation of the applicant's qualifications. If that checks out, the applicant gets invited to send further information for a detailed evaluation. At that stage, the applicant must submit financial and business plan information for review by Bikram personnel. Bikram Yoga notes that the franchising process is meant to ensure uniformity between studios and keep the brand from being damaged. It's also meant to preserve the integrity of the franchise network and encourage the sharing of best practices between owners.
Budget for Franchising Fees
According to Bikram Yoga, as of 2014, the initial franchising fee was $10,000. It also demands a monthly royalty fee equal to 5 percent of the gross revenues or $1,000, whichever is greater. Then there's a monthly advertising fee equal to 2 percent of gross revenue or $200, and a technology fee of $100 per month. Owners must spend $400 or 4 percent of the gross revenues on local advertising.
Find a Suitable Location
Bikram studios must be built in such a way to enhance the heat. A studio must have space for locker rooms, showers and the sauna area where students will practice. This sauna area has to allow students to layout, which is why Bikram Yoga dictates the dimensions that studios must contain. The dimensions are covered in the setting up and opening portion of the franchising process. The guidelines are spelled out for franchisees if they make it to that stage of the process.
Attract Yoga Students
Your advertising campaigns can emphasize the benefits of yoga practiced in a sauna environment. You can note that Bikram's philosophy is the high temperatures help drain toxins from the body, which enhances the circulation and the yoga experience. The Yoga Journal notes that successful studio owners have distributed flyers to homes, local cafes and health food stores.