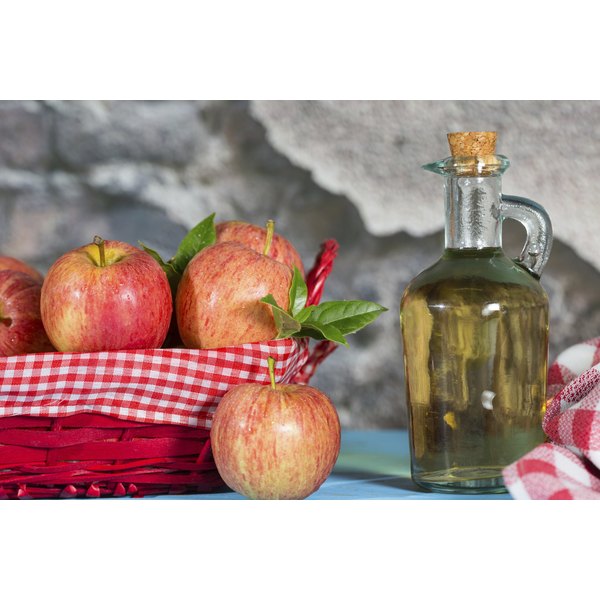 Apple cider vinegar has been a home remedy and supplemental treatment for different conditions for dozens of years. It has a wide variety of purported health benefits, with effects ranging from malady relief to improved personal appearance. Bragg's apple cider vinegar may offer additional benefits, since it is organic as well as raw and unfiltered.
Blood Sugar Control
According to a research review published in 2006 in the journal "Medscape General Medicine," ingesting a small amount vinegar before meals can improve your blood sugar control and even reduce the glycemic index value of foods in your meal. The glycemic index refers to the measure of how much a certain food affects blood sugar levels. Apple cider vinegar may even improve blood sugar control in individuals who are insulin-resistant or who have diabetes.
Immunity and Digestion
Bragg's apple cider vinegar has anti-microbial properties, which make it an ideal product for treating minor ailments. Mix a tablespoon or two with a glass of water and sip the mixture if you're suffering from acid reflux or other digestive issues, for example. Additionally, the fermented nature of Bragg's apple cider vinegar, since it is unpasteurized and unfiltered, contributes beneficial bacteria and enzymes that produce an alkaline environment in the body and can boost overall immunity.
Organic Benefits
It may not seem like choosing organic apple cider vinegar is as important as choosing organic fresh produce, but it does make a positive difference. Cider vinegar is made from fresh-pressed apples, and apples are the No. 1 food on the Environmental Working Group's "Dirty Dozen" list for 2014, which ranks the amount of pesticide residues on produce. According to the group, 99 percent of tested apple samples turned up positive results for at least one pesticide residue. Bragg's uses organic apples to make its cider vinegar, sourced from farmers who use only organic, biodegradable sprays on their products.
Anecdotal Evidence
Bragg's claims a number of other benefits for its apple cider vinegar, including improved pain relief, weight control and youthful appearances. The scientists authoring the research review published in "Medscape General Medicine" acknowledge the prominence of such claims relating to home remedies and past medical treatments but note that there is little, if any, scientific evidence to back them up. Before using apple cider vinegar to actually treat any medical issue, see your physician for a complete evaluation.