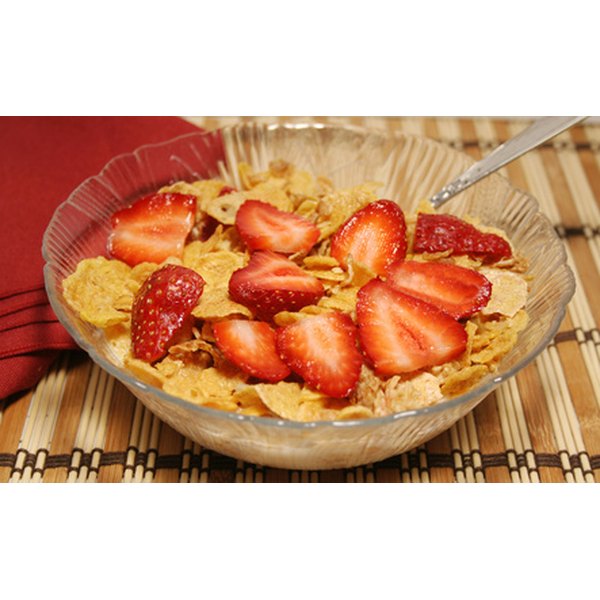 Total cereal advertises as being 100 percent of the daily recommended allowance of vitamins and minerals in one bowl of cereal. The cereal has a loyal following as a multivitamin and mineral breakfast food in a flaky, cereal-based form. Many may wonder what the other ingredients are in Total.
Natural Ingredients
Whole wheat grain, sodium chloride, nonfat milk and monoglycerides are natural ingredients that help make up Total Cereal. Whole wheat grain is used as the flake base and are essential fiber sources to help lower heart disease risks, help with weight and diabetes management. Sodium chloride, or salt, is added for taste. Nonfat milk is added for the protein and for the calcium. Monoglycerides are fatty acids that are added to increase shelf life and product stability.
Sweeteners
Sugar and corn syrup are added as sweeteners to help improve the palatability and flavor of the cereal. Corn syrup has a dual purpose as a thickener and has no nutritional value as an ingredient.
Vitamins and Minerals
Calcium carbonate, zinc, iron, pantothenic acid, niacin and riboflavin make up some of the vitamins and minerals in Total. Others are the vitamins C, E, B, B6, A, B1 and D3. Vitamin D3, along with the other vitamin Ds, is formulated in the body when exposed to sunlight, but it is a typical addition to breakfast cereal. Vitamin B helps protect against nervous system disorders, while vitamin B6 aids against high blood pressure. Vitamin C is an immune system booster.
Miscellaneous
Annatto and BHT are the last ingredients mentioned on the label. BHT or Butylated hydroxytoluene is a preservative to keep the cereal fresher for a longer period of time. Annatto is used as a coloring and as a flavoring, giving Total cereal a deeper "whole grain" appearance.