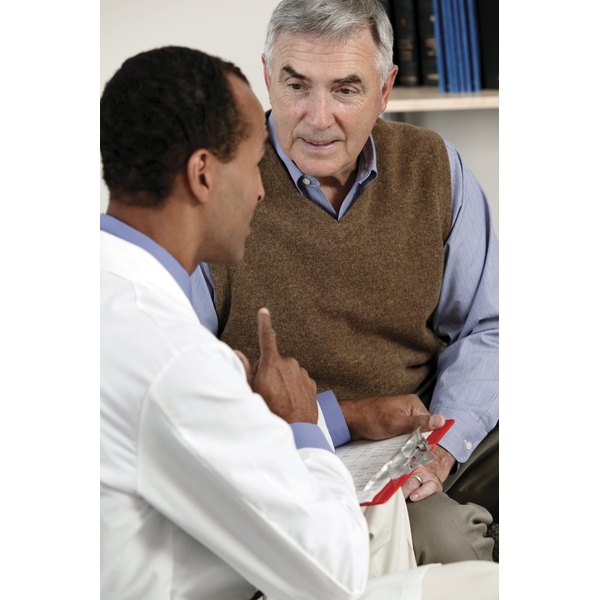 According to the University of Maryland Medical Center (UMMC), the serotonin precursor 5-Hydroxytryptophan (5-HTP) shows some promise as a holistic treatment option for depression, fibromyalgia, migraine and other chronic conditions. However, like all dietary supplements, 5-HTP is associated with some side effects and risks. UMMC notes that, when used improperly, 5-HTP may cause serious or life-threatening adverse reactions. Anyone who is pregnant, nursing, taking medication or coping with a medical condition should consult a licensed practitioner before taking 5-HTP.
Gastrointestinal Side Effects
Digestive problems are common, but mild in people taking 5-HTP. UMMC notes that common gastrointestnal side effects include gas, heartburn and feelings of fullness. 5-HTP's use as an appetite suppressant stems from its ability to produce sensations of fullness; for this reason, it should be used with caution in people with a history of anorexia nervosa or other eating disorders.
Serotonin Syndrome
Like several pharmaceutical drugs, 5-HTP increases the body's production of the neurotransmitter serotonin. A 2008 animal study at Florida Atlantic University confirmed that excessive doses of 5-HTP can flood the body with serotonin, leading to life-threatening complications.
Drug Interactions
UMMC warns that people taking drugs that affect serotonin levels, including SSRI antidepressants like Paxil, Luvox and Zoloft, should avoid 5-HTP supplements because of the possibility of a lethal interaction. 5-HTP can also theoretically interact with other antidepressants and drugs used to treat diabetes, heart disease, migraines and Parkinson's disease.