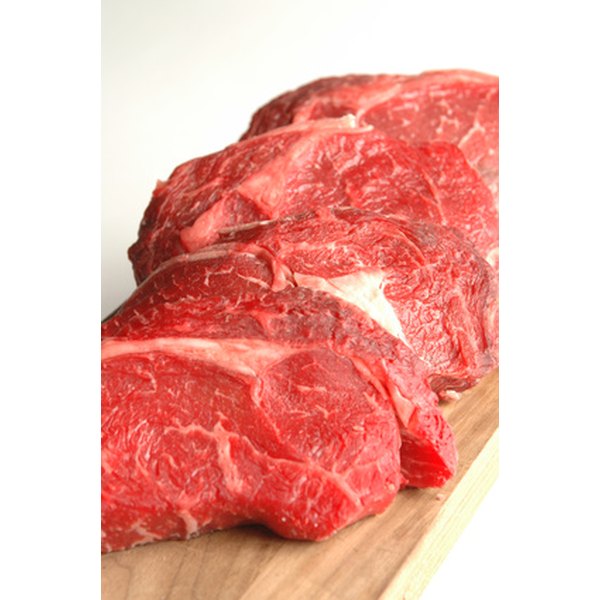 According to FoodReference.com, rib eye is one of the top five favorite beef entrées. It's an expensive cut of meat but also one that's tender, juicy and filled with flavor. This favorite steak is an excellent source of complete protein, zinc, selenium, phosphorus, niacin, and vitamins B6 and B12.
Definition
A rib eye steak comes from the large end of the beef rib (near the shoulder). Rib eyes are usually boneless but may be bone-in. It is well-marbled, with bits of fat interspersed in the muscle that give the steak it's flavor and tenderness. The quality of beef is graded according to the amount of marbling. A rib eye that has abundant marbling is "prime" and "choice" rib eyes contain a moderate amount of marbling.
Basic Nutrition
Nutrition information is based upon the USDA nutrient database as provided by NutritionData.com for a 3-oz. serving of broiled choice rib eye. One serving contains 174 calories and 25 grams of protein, which represents 49 percent of the recommended daily value (DV) based on a 2,000 calorie a day diet. Rib eye doesn't have any carbohydrates or dietary fiber.
Fats
A 3-oz. choice cut of rib eye contains a total fat content of 8 g. It has 77.3 mg of cholesterol and 2.9 g of saturated fat. Rib eye also provides healthier fats. It has 3.1 g of monounsaturated fats, 0.3 g of polyunsaturated fats, 22.1 mg of omega-3 and 223 mg of omega-6 fatty acids.
Vitamins
Rib eye provides all of the B vitamins but is especially high in niacin (7.2 mg), vitamin B6 (0.5 mg) and vitamin B12 (1.5 micrograms), which represents 25 to 36 percent of the recommended daily value for these nutrients in a 3-oz. portion. You'll also receive between 2 and 7 percent of the recommended daily value of vitamin E (0.3 mg), folate (8.5 mcg), pantothenic acid (0.5 mg), riboflavin (0.1 mg) and thiamin (0.1 mg).
Minerals
According to information from NutritionData.com, rib eye is especially high in selenium (28.6 mcg or 41 percent DV), zinc (4.7 mg or 31 percent DV) and phosphorus (193 mg or 19 percent DV). You'll also receive between 1 to 9 percent of the recommended daily value of calcium (13.6 mg), iron (1.7 mg), magnesium (21.2 mg) and copper (0.1 mg). One serving supplies 51 mg of sodium, which sounds high but is only 2 percent of the recommended daily value.
Comparison
Prime cuts of rib eye are more expensive and sold primarily to restaurants because they have more marbling. While the additional marbling results in steaks that are even more tender and tasty, it also has an impact on calories and fat content. Nutrition facts provided by Wegmans.com state that a 3-oz. serving of prime rib eye has 250 calories, which is 76 more than the choice cut. Total fat is 18 g, or 10 g higher than choice and saturated fat is 8 g (compared to 2.9 g of saturated fat in the choice cut).