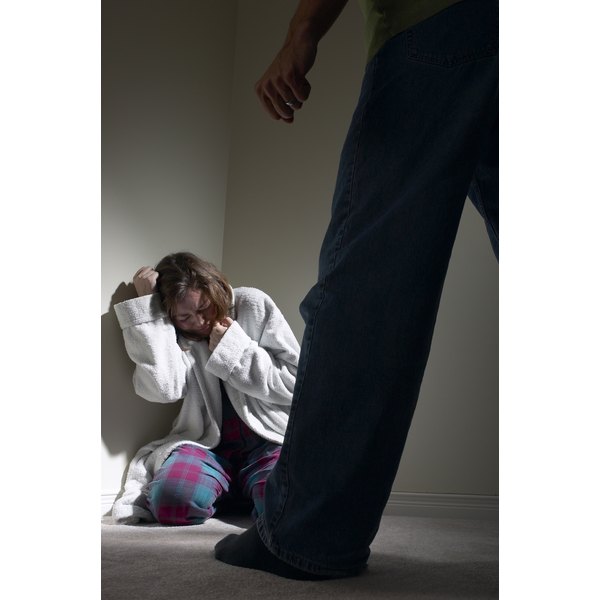 Healthy relationships are part of the human experience. They teach people to love and they instill confidence, compassion and kindness. Unfortunately, civilization hasn't outgrown sexual abuse, which represents a fundamental violation of the individual and the community. If you suspect someone is being sexually abused or suspect you're trapped in a toxic relationship, there are identifiable signs and actionable steps you can take.
Defining the Problem
Sexual abuse is an umbrella term covering any form of unwanted sexual contact. It is not limited by age or relationship, occurring with both children and adults. Television shows such as "Law and Order: SVU" have popularized rape and molestation as the most common forms of sex abuse. According to Pandora's Project, though, sex abuse also includes using cruel insults, refusing to use contraceptives, and engaging in uncomfortable or risky sexual behavior against the victim's will.
Identifying Child Sexual Abuse
Look for sudden shifts in behavior such as sudden bouts of aggression and insomnia. Adolescents may exhibit risk-taking behaviors. A child may fear particular adults. Age-regressive behavior such as bed-wetting is also a sign. On the other hand, a child may become sexually promiscuous. Pay attention to physical symptoms, as a child may experience anal pain or discomfort related to the sex organs. Indications of pregnancy should be an immediate red flag. Finally, if you suspect a child is guilty of sexual abuse, this, itself, implies an adult abuser is involved.
Signs of Sexual Abuse in Adults
Adult victims exhibit classic signs of Posttraumatic Stress Disorder, including depression, nightmares and suicidal thoughts. Immediate symptoms include bruising and low-self esteem. Often, the abuser will go to great lengths to control the behavior of the victim. He will seek to regulate the victim's personal appearance and could go so far as to engage in stalking . In other words, a battered wife dynamic may emerge.
How to Find Help
If you suspect someone is being abused, do not confront the abuser. This is dangerous, as the person may react violently or take action against the victim; however, calling the police is acceptable. Be advised, in some states you may be legally bound to notify authorities should you suspect child abuse. The U.S. Department of Health and Human Services recommends contacting the Childhelp National Abuse Hotline at 800-422-4453. In respect to adult victims, offer support but avoid confrontation. It is acceptable to voice concerns for safety. Your first step, though, is contacting the National Domestic Violence Hotline -- 800-799-SAFE -- or a similar local agency.