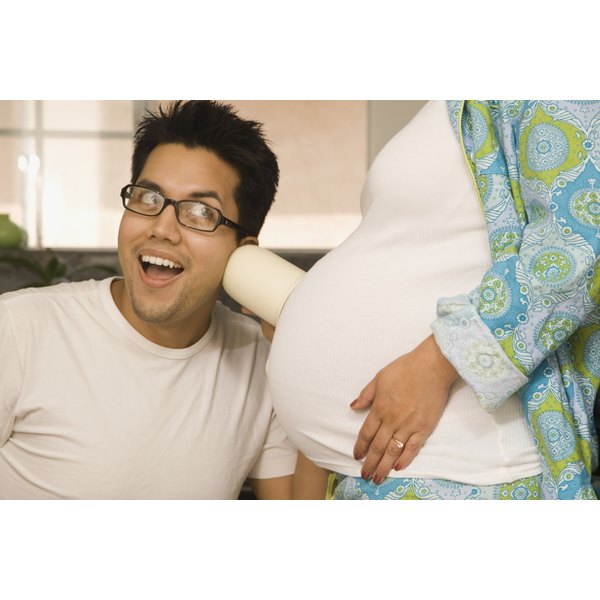 While mothers are responsible for providing life support for an unborn baby, there are still things that a father can do to influence the health, well-being and future of the baby. By preparing in advance, a dad can get the baby used to his voice, create a nurturing environment for the baby's mother and contribute to things like healthy eating and a smoke-free environment.
Direct Influences
The most direct way to influence your baby before his birth is to talk to him, play him classical music or even read stories to him. According to the University of Maryland Medical Center, between 19 and 21 weeks gestation, babies can hear and respond to external noises.
In addition, the National Association for Music Education suggests that selecting and playing music to your unborn child will help her make better sound associations, which are critical for language acquisition once she is born. This can also improve her fine and gross motor skills development. When speaking or playing music to your unborn baby, choose classical music, which is recorded in ranges the baby can best hear. Many compilations are available in stores geared toward babies and pregnancy.
Once your baby is born, speak to him as soon as possible to let him know that you're there for him, and he is safe.
Indirect Influences
A happy mom grows a healthy baby, so keeping the mother of your child happy and healthy is another great way to influence the future of your unborn baby. Pregnant women need a lot of rest, as little stress as possible and a healthy diet. An article from childwelfare.gov suggests many things that dads can do for their unborn babies, including modeling sober behavior, attending prenatal visits, supporting healthy eating and keeping the mom's stress level down. Stress, the article reports, is often felt by a child growing in the womb and can impede development.
Another thing that will influence your baby's growth is smoking. If you smoke, quit. If you can't quit, never smoke around the baby's mom. According to a report at quitsmoking.com, babies with parents who smoke are 2.5 times more likely to die from Sudden Infant Death Syndrome than those born to nonsmokers.
Age Considerations
Although it's typically the woman who feels like her biologic clock is ticking, a man's age can impact his unborn baby as well. While men are still able to take part in the conception process at a much older age than a woman could, that doesn't mean the baby won't see the effects. According to the New York Times, research shows that older fathers are more likely than younger dads to have children with either autism or schizophrenia. This possible problematic part of fathering a child at an older age may result from genetic mutations that occur as a man ages.