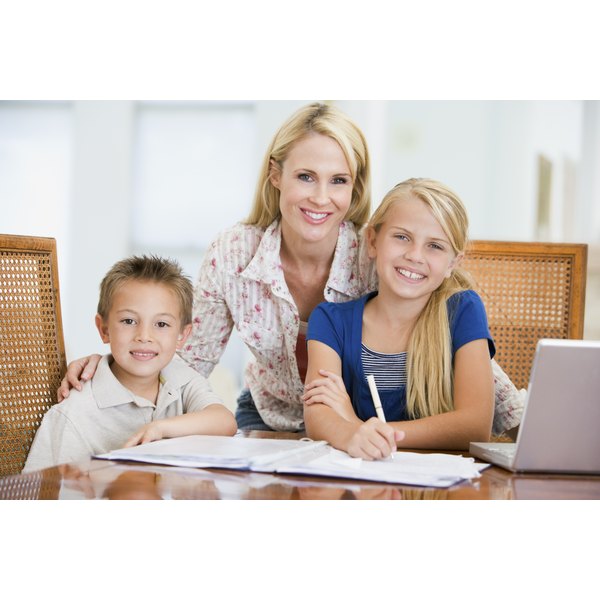 Providing your child a schedule and helping her follow it will not only provide her with a sense of security, but it will also teach her important skills for the future. Schedules for kids should not be overly strict. Initially it should be very basic to help your child adjust to a life of structure. You may put a schedule into effect without your child realizing it, or you may want to discuss the schedule as a family. Regardless of how you implement it, the schedule itself should fit the needs of your family in order to be successful.
Make a visible schedule or chart on a dry erase board if you want your children to be aware of the schedule. This step is especially helpful for children who are learning to tell time. You do not have to post the schedule on a dry erase board, but you may find this a helpful technique, according to FamilyDoctor.org.

Set meal times and any other concrete tasks down on the schedule first. For example, if your child goes to day care or school, the time you serve breakfast, leave the house and pick them up at the end of the day cannot be changed.

Allow a five to 10 minute cushion of time for most tasks. If your child wakes at 7:00 a.m. and needs to be in the car by 8:00 a.m. to get to school on time, then you should aim for getting into the car by 7:50 a.m. every morning to prevent last minute mishaps from making you late.

Set the evening schedule based on chores, baths or any other activities that are necessary. Include time for playing, picking up, family time or setting clothes out or other necessary items for the morning routine. It's important that you put quality time with your kids ahead of getting chores completed, suggests the University of Florida IFAS Extension. Be sure to start the bedtime routine soon enough so that your child or children will be in bed on time.

Be consistent. There may be several days in the beginning where things will not go according to schedule. Repeatedly following the schedule will help your child get used to the structure. You may find it beneficial to continue the schedule on the weekends, or alternatively your family may benefit from two days of freedom from the schedule. You may even find it helpful to reward the family with a spontaneous day of fun for following the schedule during the week.

Tip

Be flexible and firm with the schedule. Your children may need reassurance and practice in following the schedule.

When creating your schedule consider adding reserved family time, hair cuts, medical appointments, lessons, practices, play dates and any other community or family activities in which your family is involved.

Warnings

Avoid making the schedule feel like punishment. The schedule is meant to relieve stress and make daily activities easier to complete.