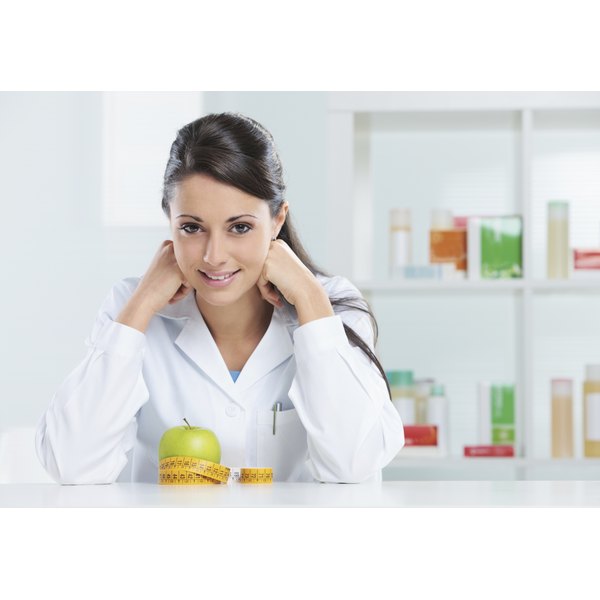 If you've ever felt overwhelmed at the grocery store, you are not alone. The 2012 Food and Health survey conducted by the International Food Information Council Foundation found that more than half of Americans felt it was easier to do taxes than figure out how to eat healthfully. Nutrition consultants -- professionals who specialize in understanding the relationship between diet and health -- may be able to break through the confusion.
Professional Purpose
Nutritional consultants learn how food affects the body and how diet can be used to prevent disease and promote a healthy, fulfilling lifestyle. Practitioners are able to evaluate patients' diets, make recommendations for change and teach their clients to adopt new nutritional habits. Nutritional consultant training and certification vary from state to state. A nutritional consultant is not the same thing as a registered dietitian or licensed nutritionist.
Course Work
The course requirements for a nutritional consultant program vary widely. For example, at Bauman College Holistic Nutrition and Culinary Arts, Penngrove, California, students are required to learn nutrition fundamentals such as digestive physiology and biochemistry before moving on to more specialized courses including stress and endocrine interactions, weight management and blood sugar regulation. Students at the American School of Natural Health, Clearwater, Florida, take biomedical courses including anatomy and physiology, then move to a holistic study of nutrition including classes on superfoods and juicing, detoxification and cleansing, and environmental toxins.
Consultant Licensure
The American Academy of Nutritional Consultants offers a certification test that allows consultants to put the initials C.N.C -- certified nutrition consultant -- after their names. The AANC states that the purpose of the certification is to "protect the health, safety, and welfare of the public by encouraging high standards and professional competence of persons practicing in the profession of nutritional counseling." Nutritional consultants must complete a number of tests in general and applied nutrition and in practice management to be certified.
Career After Certification
Bauman College states that graduates of its program work in hospital, clinic and private practice settings alongside acupuncturists, mental health professionals, physical therapists, doctors and chiropractors. Graduates also find work consulting at schools, health food stores, spas and health clubs. A nutrition consultant may wish to reach a wider audience and author books, teach classes or give lecture series.
Limitations of Consultant Programs
Registered dietitians are required to obtain a bachelor's degree, participate in a supervised internship, pass a registration exam and obtain a license from their resident state. No such standardization exists within nutritional consultant programs, so you may or may not earn a bachelor's degree and license. Before enrolling in a nutritional consultant program, ask where former graduates have found employment, whether you will earn a degree, whether the institute is accredited and whether state regulations will allow you to act as a nutritional consultant without supervision.