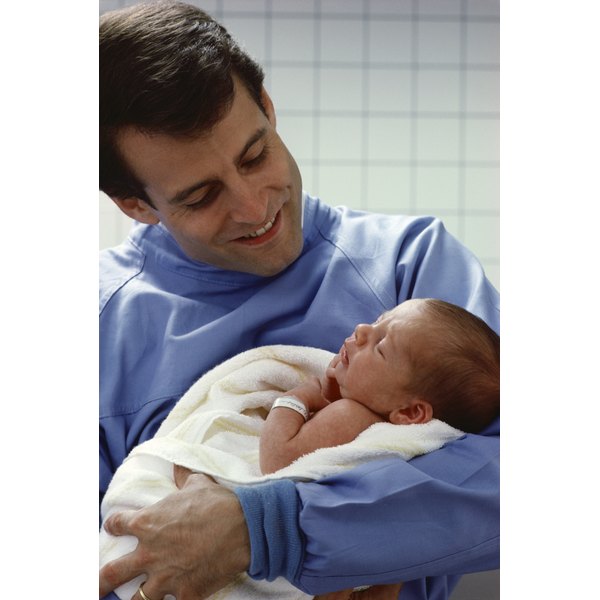 It's common for newborns and new moms to get lots of attention (and rightfully so) with a first-time birth. However, it's also important not to forget the first-time father. A thoughtful way to include a new dad in the excitement of his new baby is with a gift. You don't have to break the bank with the gift, what's important is to make sure the gift was chosen with care and given with joy over the family's first baby.
A Toast to Dad
To add a celebratory flair to honor the new dad, purchase champagne, sparkling wine or sparkling apple cider as a gift. Package the bottle in a decorative bag, such as one with a monogram initial or made of a fun fabric. Other toast-worthy options include bar accessories, such as cocktail glasses or a flask with the baby's birthday or name monogrammed on it. If the new dad is especially known for a signature cocktail (Jack Daniels on the rocks, anyone), don't leave out the liquor to complete the gift.
Gifts You Create
Ready to flex your creative muscles? There are lots of gifts for a new dad that you can make yourself. They include a baseball with the "new dad" or "Sam's Dad" on the front. Another option is to create a picture frame that creates the perfect space to keep a photo of his new baby--whether cut-out letters of the baby's name or even just a bright, colorful frame. Other make-it-yourself options include birth announcement cards you have made yourself, such as ones that leave a spot to include the baby's picture or say "It's a Boy" or "It's a Girl" for the dad to send friends and family. Don't forget to include stamps as a practical extra.
Baby Accessories
Not all baby accessories come in pink or baby blue. Buy the new dad in your life some baby accessories that are manly yet functional, such as diaper bags, pacifier holders or a changing station that come in camouflage or darker solid colors, made of tough canvas to keep the bags clean. Other fun new-dad gifts include baby bibs that read "I Love Dad" or "My Dad Rocks." T-shirts, onesies or pajamas that acknowledge dad would make a thoughtful gift as well.
Read All About It
New dads need a lot of advice and support. Why not purchase a book that shares the wisdom from past dads? Maybe it's a volume about how to be a good dad, stress and relationship management with a new baby or quotes about fatherhood. Another option is to purchase the new dad a journal to record the first year of his baby's life to keep forever.