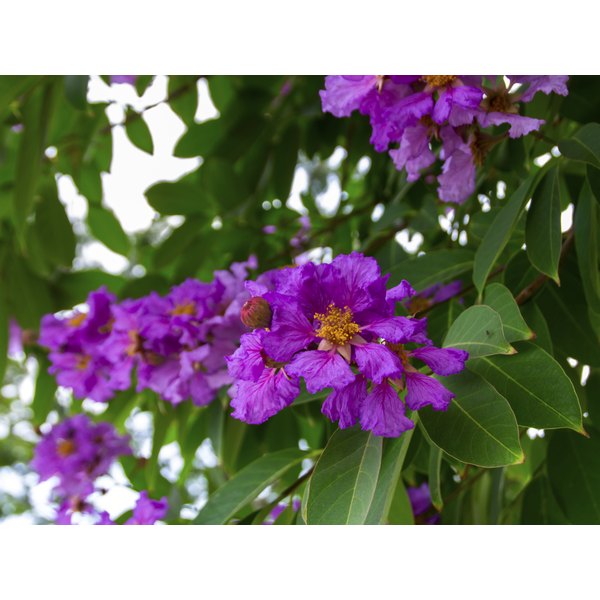 Although relatively new in the Western world, banaba leaf has been used as a folk remedy to treat diabetes in the Philippines for a number of years. Growing primarily in China and the Philippines, banaba leaf has most recently gained attention in the West for its ability to lower blood sugar levels.
Blood Sugar, Insulin and Weight Gain
According to Micro Nutra Health Journal, a common condition known as insulin resistance is a major contributor to obesity. Glucose or blood sugar levels in the bloodstream cause the pancreas to release insulin. When blood sugar is elevated--such as through the consumption of bread and sugary snacks--the pancreas releases an overload of insulin into the body. The effect of having too much insulin in the bloodstream over an extended period may be harmful to the body and contribute to a development of diabetes. However, the most common side effect is weight gain or obesity. When blood sugar levels are elevated, this glucose becomes stored as fat. Therefore, lowering blood sugar levels has a direct effect on losing weight.
Banaba's Effect on Blood Sugar
Banaba leaf contains an ingredient known as corosolic acid, which has been shown to have an effect on decreasing insulin production by the pancreas. Another important ingredient in banaba leaf is tannic acid. In a 2005 study entitled "Tannic acid stimulates glucose transport and inhibits adipocyte differentiation in 3T3-L1 cells," it was concluded that the tannic acid found in banaba leaf may be useful for obesity related to Type 2 diabetes.
Anti-Obesity Activity
In a Tokyo study conducted in 1999, mice that were given banaba extract resulted in lower cellulose, body weight gain and tissue weight. These mice showed a 65 percent decrease in hepatic lipid contents, which was due to a reduction of triglycerides. Low hepatic lipids are related to weight loss. These results suggest that banaba leaf had a beneficial effect on obese mice.
Dosage
Because banaba plants don't grow in Western countries, banaba leaf should be taken in supplement form. According to Micro Nutra Health Journal, taking 8mg to 48mg of banaba leaf per day may aid in a significant level of weight loss by moderating blood sugar levels.
Precaution
According to Dr. Ray Sahelian, it has not been determined how banaba leaf supplements may interact with oral medications taken for Type 2 diabetes. Those who have diabetes should discuss taking banaba leaf with their doctor to see if it's appropriate for their condition.