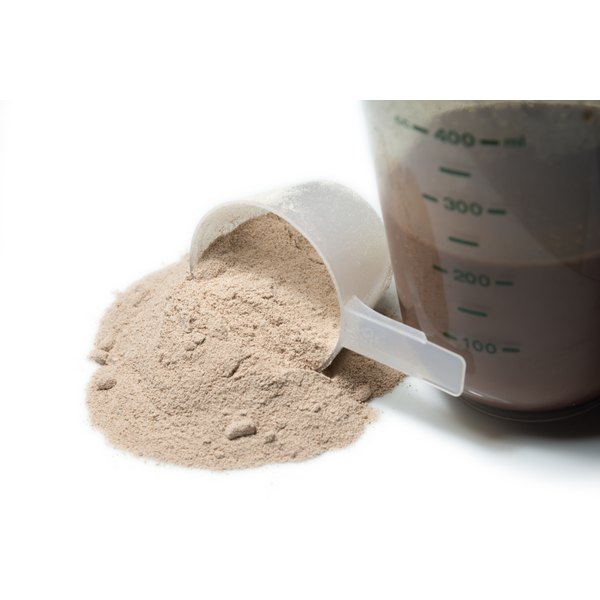 It may be a challenge for a type 1 diabetic with a fast metabolism to gain weight since they tend to avoid foods that are notorious for packing on the pounds. Though there is no one way for a type 1 diabetic to eat, the increased potential for dangerous side effects, like heart disease, usually encourages them to stick to a healthy meal plan. However, protein shakes made with nutritious yet high-calorie ingredients can help you to put on weight without sabotaging your health.
Choose the type of protein shake that you want to make. For example, the combination of plain yogurt, fresh squeezed fruit juice, strawberries, blackberries and a little peanut butter make a healthy drink that includes plenty of protein, vitamins and minerals.

Remember to count the carbs that you put into the protein shake. Type 1 diabetics match their carbohydrates with their insulin so it is important to keep track. Measure your food properly. For example, rather than throw a handful of raspberries into the shake, measure out ½ or 1 cup precisely.

Keep it healthy by avoiding heart-damaging saturated fats and added, processed sugars. Type 1 diabetics have a greater risk of heart disease and high blood pressure. Use low or non-fat dairy products, fresh fruits and fresh squeezed fruit juices.

Use a high-quality source of protein, such as whey powder, which is derived from dairy products. Diabetics should focus on eating as healthy as possible and with food products that are of high-quality.

Add 2 tbsp. of organic peanut butter to the shake to increase the calorie content, which can help you bulk up. Organic peanut butter will also provide you with extra protein and heart-healthy poly and monounsaturated fats.

Place 1 cup of cooked oatmeal into the protein shake to increase the calories, fiber and protein content.

Pour in ½ to 1 cup of plain yogurt. Most fruit flavored yogurts contain a good deal of added sugar. Plain nonfat yogurt contains protein, potassium and phosphorus, three substances, which are beneficial to the health of diabetics.

Consume a protein shake consisting of 300 to 500 calories at least once a day as either a snack or meal replacement. Shakes can be enjoyed any time of day, including for breakfast, after a workout or as an after dinner treat.