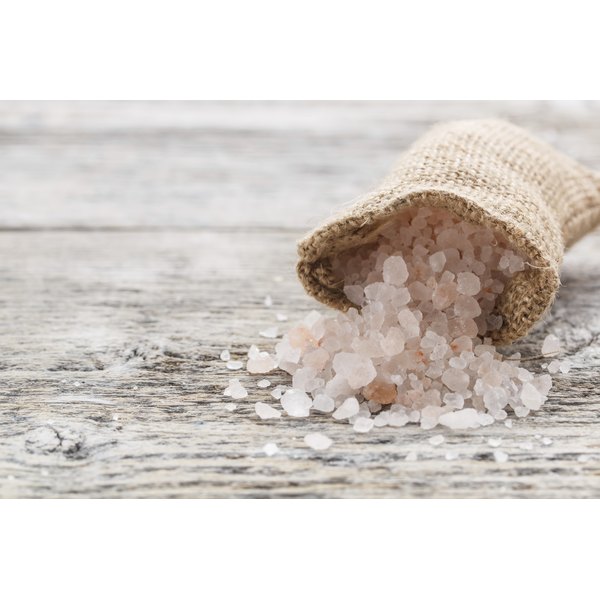 The Master Cleanse, also known as the Lemonade Diet, is a popular detox diet that involves fasting and drastically restricting your caloric intake. An integral component of the Master Cleanse is the saltwater flush, which proponents of the Master Cleanse say will rid your body of a variety of toxins that have built up over time.
Master Cleanse
The Master Cleanse was invented by Stanley Burroughs in the 1940s, but didn't gain widespread popularity until the publication of his book, "The Master Cleanser," in 1976. In the 10-day Master Cleanse, dieters forsake solid food and drink a concoction of water, fresh lemon juice, maple syrup and cayenne pepper. The goal of the cleanse is to cause the body to expel toxins that have built up and can cause an array of health problems, all of which can be eliminated through the Master Cleanse, according to Burroughs.
Saltwater Flush
The saltwater flush is an important part of the cleanse, as it will clean out your digestive tract in much the same way as a colonic, according to Master Cleanser. But according to Internal Cleansing, the saltwater flush is also viewed as one of the most difficult parts of the Master Cleanse, as it involves drinking an entire quart of saltwater to stimulate a substantial, watery bowel movement intended to flush toxins out of your colon.
Recipe
The actual recipe for the saltwater flush is simple. In Burroughs' original iteration of the Master Cleanse, the saltwater flush consists of 2 teaspoonfuls of sea salt mixed with 1 quart of filtered water. According to Burroughs, the key to the saltwater flush is its density. Since the saltwater has a density similar to that of blood, it won't be processed by the kidneys. Instead, it goes straight through the the kidneys and flushes out the colon. Burroughs suggested dieters undertake the saltwater flush on an empty stomach each morning during the Master Cleanse.
What to Expect
You will likely have your first bowel movement about 30 to 60 minutes after drinking the saltwater. You will probably have several more subsequent bowel movements after the first one, with the final bowel movement taking place up to an hour after the first. During the first two days of the Master Cleanse, you will be eliminating waste along with the water. After this, your movements will be almost entirely water. The waste that's eliminated, according to Master Cleanser, has been trapped in your colon for months, possibly even years.