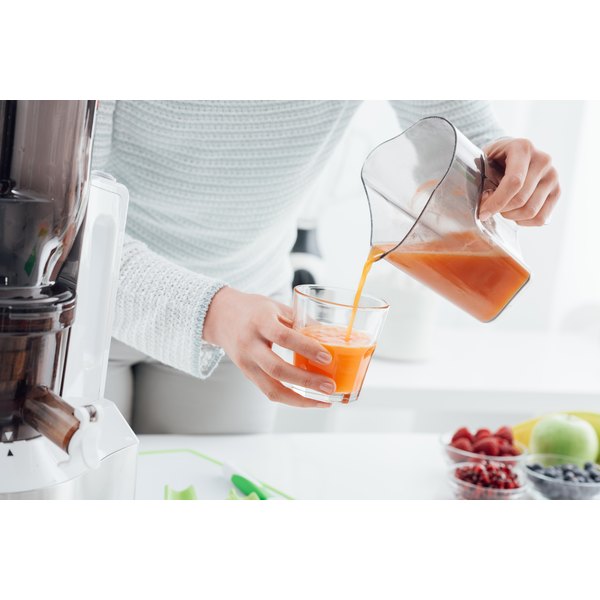 When celebs like Drew Barrymore and Jennifer Aniston follow a diet plan, you take notice. So when they jumped on the 7 Pounds in 7 Days Super Juice Diet created by Jason Vale, a UK health and lifestyle coach, it gained popularity — quickly. But this quick weight-loss plan is not the world's first or only juice diet or fast.
Vale promotes his juicing program through his website and the book "7 Pounds in 7 Days Super Juice Diet." The diet claims to cleanse and detoxify your system by drinking nutritious juices and foregoing whole food.
Diet Premise
This is not a diet with meal plans and calorie targets; it's a cleansing program based on a juice fast. You consume no solid foods while on this diet. Vale's website claims that you can lose up to seven pounds in one week when you drink the juices that he provides in his plan. He also recommends that you participate in exercise to boost your weight loss.
Diet Plan
Vale's juice recipes mainly use common vegetables, fruit and herbs or spices. He also provides recipes for herbal teas that you prepare and consume to aid your digestion. Vale's seven-day recipe plan guide claims to combine specific formulas to effectively replace each of your meals and snacks during your cleansing fast.
Meals
Your recipe choices vary depending on the meal that you are replacing with juice. Each day of the program, you consume Vale's "Super Juice" made with vegetables, fruit, spirulina and wheatgrass.
Other fruit and vegetable blends with names like "Boost Juice," "Lemon-Ginger Zinger" and "Super Detox Juice" appear in your juice menu choices. Almost all of the juice recipes feature apples, and some include yogurt, sprouts, wheatgrass or acidophilus bacteria.
Considerations
The calorie intake from the juice recipes provided is far less than you would consume in a normal daily adult diet and could leave you feeling deprived and nutritionally deficient. It might be possible to get a sufficient amount of vitamins and minerals while you are on this program; however, the juice recipes fail to provide an adequate intake of protein, fiber and essential fatty acids.
Safe weight loss helps you lose from one to two pounds per week. Even though you are only consuming liquids on this plan, most of the weight that you will lose is from water, not fat. The weight loss is temporary — once you resume your normal calorie intake, the weight that you lost is likely to return.