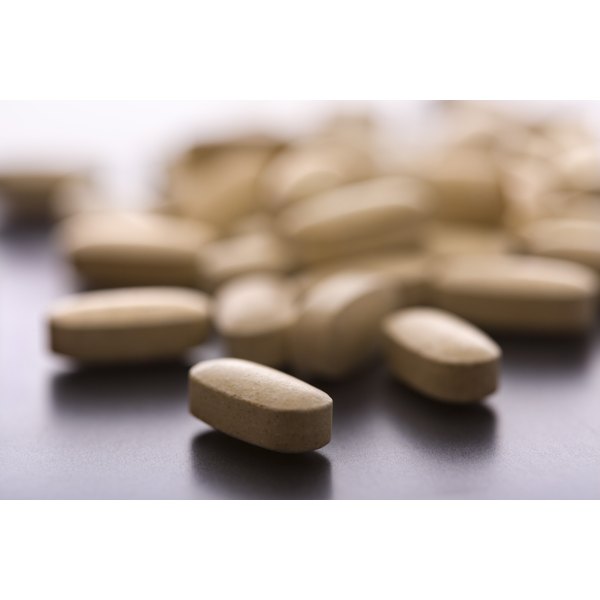 Nervous stomach, a condition more commonly known as irritable bowel syndrome or IBS, is a relatively common health problem among Americans. The Cleveland Clinic states that IBS most commonly affects people in their late teens to early 40s and that women have a greater chance of developing this problem than men. Some dietary supplements may help treat your nervous stomach, although you should clear the use of supplements with your family physician first.
About IBS
Nervous stomach affects about one of every five American adults, notes the National Digestive Diseases Information Clearinghouse. If you have IBS, you may experience numerous signs and symptoms, including intestinal gas, abdominal pain or discomfort, the sensation of bloating, episodes of constipation or diarrhea and mucus in your stool. Most people with this health problem experience only mild symptoms, although other people may experience severe symptoms that affect their ability to perform their usual activities of daily living.
Helpful Supplements
Certain nutritional supplements may be helpful in treating your IBS. Naturopathic physicians Michael Murray and Joseph Pizzorno, co-authors of "Encyclopedia of Natural Medicine," state that fiber, Lactobacillus acidophilus and volatile oils, such as peppermint oil, may be among the most effective supplements for this health purpose. Other beneficial supplements may include essential fatty acids, aloe vera, skullcap, valerian, marshmallow, L-glutamine and garlic. A larger volume of scientific research evidence may be required to assess the true efficacy of these supplements in relaxing your nervous stomach or treating your IBS.
Featured Supplement
Peppermint oil may be one of the most commonly used -- and most effective -- nutritional supplements in treating your IBS and relaxing your nervous stomach. According to Dr. Alan R. Gaby, a medical doctor and author of "The Natural Pharmacy," peppermint oil has historically been used in treating irritable bowel syndrome, gingivitis, indigestion, shingles, tension headache, chronic yeast infections, common cold, gallstones and low back pain. Further scientific scrutiny may be needed to determine the true effectiveness of peppermint oil in relaxing your nervous stomach.
Disclaimer
IBS is a condition that is best managed by a competent health-care professional. Your primary care provider can counsel you on the risks, benefits, side effects and limitations of dietary supplements in relaxing your nervous stomach. Avoid taking dietary supplements without first discussing supplement-related topics with your family physician, including proper dosage and possible drug interactions. The use of dietary supplements alone may not be effective in treating your IBS. In most cases, a combination of allopathic and alternative therapies may provide optimal treatment benefits.