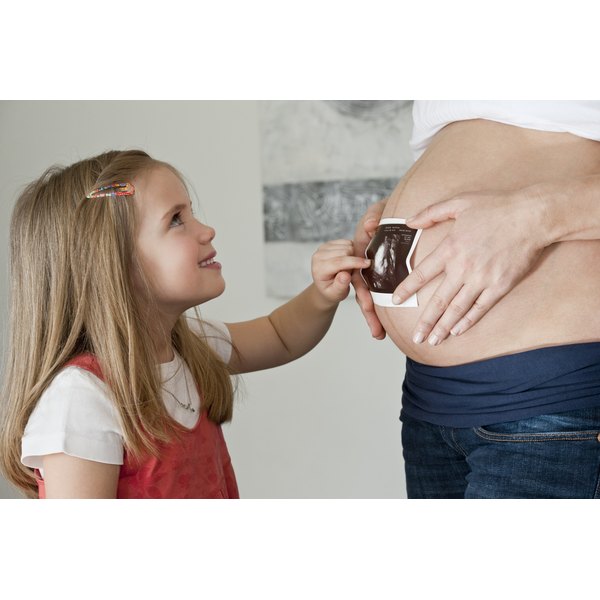 After the excitement and surprise of a positive pregnancy test, a newly pregnant woman has a long list of do's and don'ts to keep the baby and herself healthy. The way you care for yourself early in pregnancy affects your baby's development. The first trimester is also an ideal time to start planning for the arrival of your baby so you aren't overwhelmed with responsibilities in your last trimester.
Get Prenatal Care
Early prenatal care allows your care provider to track your baby's development and detect any abnormalities as soon as possible. Contact your health care provider when you find out you are pregnant to schedule your first appointment. The office is likely to ask you the date of your last period to estimate when you conceived. Ask about the regular prenatal care schedule to ensure you make all of the appointments. Expect to be weighed and measured and provide a urine sample at every prenatal visit. Additional tests and evaluations are performed at specific points in the pregnancy.
Improve Your Habits
Early in the pregnancy is the ideal time to make healthy lifestyle changes if necessary. Immediately stop smoking, drinking alcohol and participating in other dangerous activities that threaten your baby's health. Improve your diet and get on a regular exercise schedule if you don't already exercise. Get to bed earlier to ensure you get the rest needed during pregnancy. The first trimester is also the time to focus on keeping any chronic conditions under control. Talk to your doctor if you have preexisting medical conditions to determine if you are able to continue with any prescribed medications.
Make a Plan
It's never to early to begin planning for your baby's arrival. The pregnancy passes quickly so getting a jump start on all of the tasks helps you stay on track. Explore your options for where to have your baby, including the different hospitals in your area, birthing centers or your own home. Check with your insurance company to determine if you need to complete any paperwork or get a preapproval for the hospital stay. Look at your finances to develop a plan for paying off medical bills, buying baby gear and affording recurring expenses like diapers, formula and day care.
Handle the Side Effects
The beginning of the pregnancy is often when uncomfortable side effects occur, including morning sickness, breast soreness, fatigue and headaches. Controlling these symptoms makes you feel more comfortable as you enter the prenatal period. Eat frequently to help with nausea and to keep your energy levels higher. Rest as much as possible to battle the exhaustion. Acetaminophen is considered a safe pain reliever throughout pregnancy to help with headaches.