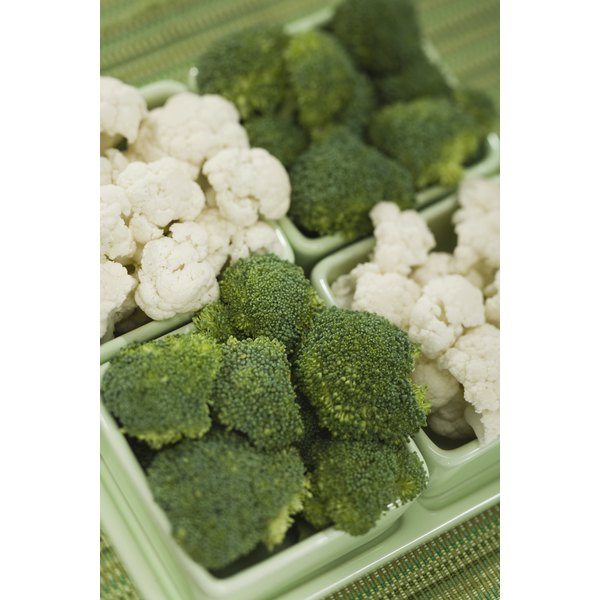 Hives are red welts on your skin that look like a rash. Often itchy, hives can be caused by different triggers, including insect bites, medications, allergies, extreme temperatures and stress. Some foods could also contribute to your skin problem, especially foods with a high salicylate content such as many cruciferous vegetables.
Cruciferous Vegetables
Cruciferous vegetables are known for their nutritional value and high antioxidant content. However, if you are prone to hives, eating more cruciferous vegetables could worsen your skin problem. Cruciferous vegetables include broccoli, cabbage, cauliflower, Brussels sprouts, kale and bok choy. Many of these vegetables have a high salicylate content. Salicylates are a natural food chemical that can be found in many vegetables, fruits, herbs, spices, teas and nuts.
High Salicylate Cruciferous Vegetables
The cruciferous vegetables that could cause your hives because of their high salicylate content include broccoli, broccolini, cauliflower and radicchio, according to the Allergy Unit of the Royal Prince Alfred Hospital in Sydney, Australia. Avoid eating these cruciferous vegetables to lower your intake of salicylate and better manage your hives.
Low Salicylate Cruciferous Vegetables
Although bok choy, Brussels sprouts and cabbage also belong to the cruciferous vegetable family, they have a negligible salicylate content and are not likely to contribute to your hives. You can include these vegetables without worrying about worsening your skin condition.
Other High Salicylate Vegetables
Many other foods contain salicylate and can exacerbate hives. Meeting with a registered dietitian with experience working with people with hives can help you find the foods in your diet, besides cruciferous vegetables, that could also be a problem. Apart from cruciferous vegetables, vegetables such as tomatoes, mushrooms, olives, avocado, bell peppers, artichoke, corn and onion also have a high salicylate content.
Safe Low Salicylate Vegetables
In addition to low salicylate cruciferous vegetables, which include bok choy, Brussels sprouts and cabbage, you can also eat green beans, celery, garlic, leek, rutabaga and bean sprouts. These vegetables are safe even for people with hives who have a high sensitivity to salicylates.