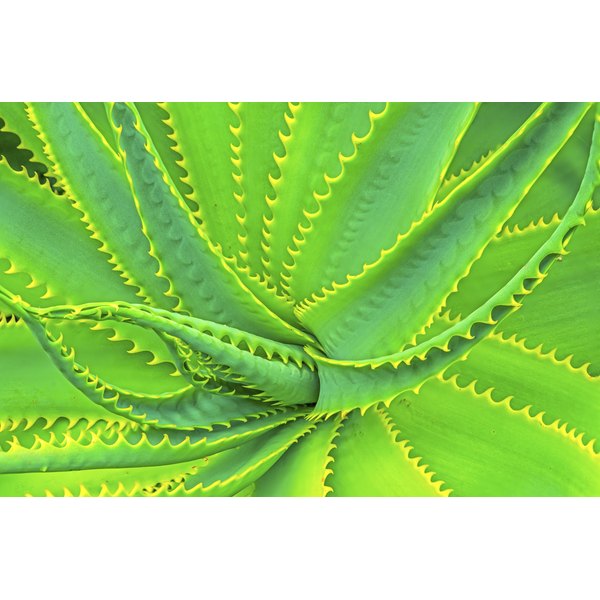 Aloe vera is mainly used as a topical gel to heal burns, sunburns and other skin conditions. While drinking aloe vera juice can relieve occasional constipation, it is not recommended for this purpose, according to the University of Maryland Medical Center. Research is scant on whether aloe vera is good for irritable bowel syndrome. Consult a qualified health-care provider before consuming aloe vera for any purpose.
Irritable Bowel Syndrome
Irritable bowel syndrome has symptoms of gas, bloating and abdominal pain and cramping. It can involve constipation or diarrhea, and some people alternate between these two symptoms. The condition may be diagnosed if these symptoms occur on a chronic basis. It is unclear why irritable bowel syndrome develops, reports the National Center for Biotechnology Information's PubMed Health website. The syndrome differs from inflammatory bowel disease, because it is diagnosed by a grouping of symptoms rather than by the physical identification of colon inflammation.
Aloe and Constipation
Aloe vera juice has stimulant laxative effects that can relieve constipation, but the substance can irritate the intestines and cause cramping. In addition, taking stimulant laxatives can become habit-forming and make it difficult to have bowel movements without the laxative. The U.S. Food and Drug Administration does not allow aloe products to be sold for constipation relief because information on safety and effectiveness for this use is lacking, according to the American Cancer Society. Dietary changes and gentler medical approaches are better choices.
Research
A study published in the September 2006 issue of the "International Journal of Clinical Practice" investigated the theory that aloe vera could help treat irritable bowel syndrome symptoms. Participants with a main symptom of diarrhea who took aloe vera showed a trend toward improvement at one month, but the authors did not determine this as strong evidence that aloe vera benefits people with irritable bowel syndrome.
Other Remedies
Health-care professionals should discourage the use of aloe vera for treating irritable bowel syndrome, states the publication "Irritable Bowel Syndrome in Adults: Diagnosis and Management of Irritable Bowel Syndrome in Primary Care," published in February 2008 by the Royal College of Nursing. The publication provides many alternative suggestions for treating irritable bowel syndrome. Some recommendations include eating regular, leisurely meals; drinking at least eight cups of fluid per day, particularly non-caffeinated beverages; decreasing intake of alcoholic and carbonated beverages; and limiting intake of insoluble fiber, such as bran.