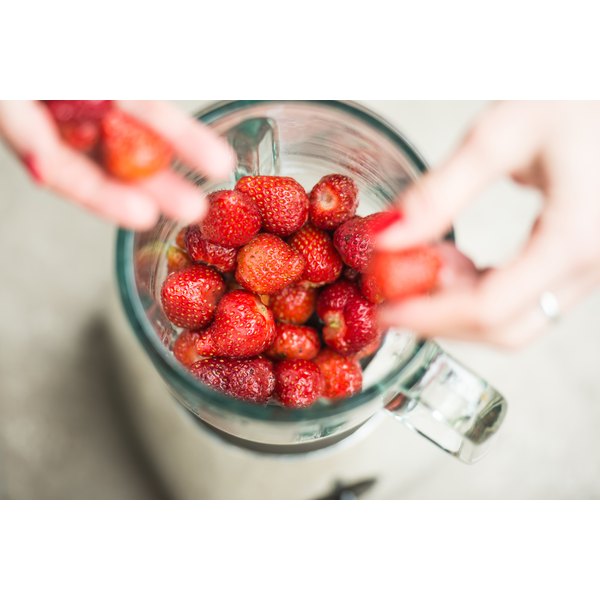 Although some diet shakes are nutritionally sound choices that can help you cut calories and work toward steady weight loss, others offer little nutritional benefit and are not likely to curb appetite or improve your health. To pick out those that may help you achieve positive results, it's useful to learn more about shake ingredients, nutrition facts and potential alternatives.
Nutrition Facts
Weight loss shake companies suggest using their products as occasional meal replacements. As such, most shakes are low in calories to achieve the goal of reducing your daily calorie total. Slim-Fast's milk chocolate shake has just 190 calories and 6 g fat, 25 g carbohydrates, 5 g fiber, 10 g protein and 18 g sugar. Ensure's nutrition shakes have about 250 calories each and 6 g fat, 41 g carbohydrates, 1 g fiber, 9 g protein and 18 g sugar. Dairy-free alternatives, such as Genisoy's chocolate shake mix prepared with 1 cup of skim milk, may be richer in protein. The Genisoy drink and milk have 210 calories, 0.5 g fat, 16 g carbohydrates, no fiber, 15 g protein and 15 g sugar.
Ingredients
"The principal ingredient of liquid meal replacement shakes is sugar, which is present in amounts comparable to those in soft drinks," state authors of a 2003 article published in the "American Journal of Clinical Nutrition." Indeed, Slim-Fast's third listed ingredient is sugar, and the shake also contains fructose and high-fructose corn syrup. Ensure's primary ingredients, after water, include sugar and corn syrup, and Genisoy's shake lists fructose as its second ingredient.
Alternatives
A major advantage of preparing a weight loss shake at home is that you are in control of the shake's total calorie count, nutritional profile and ingredient list. If you want to focus on nutrition, you can create a shake that contains all natural ingredients, is low in calories and is free of added sugar. For example, try blending one 30 g scoop of whey protein powder, 1/2 cup of nonfat plain yogurt, 1/2 cup of skim milk, 1/2 cup of raspberries, 1/2 cup of sliced strawberries and 1 tbsp. of unsweetened cocoa powder as a meal replacement. The shake has 300 calories and about 35 g protein. If you use it to replace one 600-calorie meal per day, you can build up a calorie deficit that will allow you to lose more than 2 lb. per month.
Considerations
As public health and preventive medicine specialist Dr. Monica Zangwill points out, commercially produced weight loss shakes are considered to be "dietary supplements" by the Food and Drug Administration, which means they are not regulated by the same health guidelines as whole foods. As such, the products may make marketing or health claims that have not been verified by scientific research, and they may even pose health risks. Before starting a diet that includes any weight loss products, get approval from your doctor or a registered dietitian.