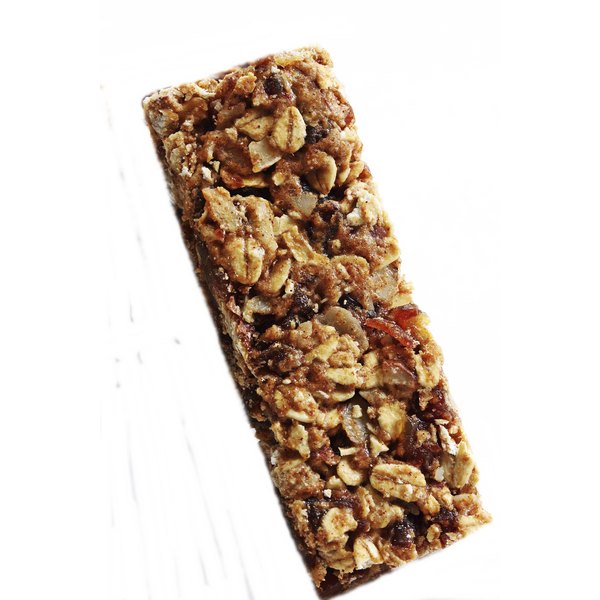 A protein bar can serve as a pick-me-up before or after a workout -- as long as you don't overindulge and choose one with the right ingredients, says New York-based nutritionist Lisa Young. The best protein bars should be low in sugar -- no more than 7 grams -- fat and hydrogenated oils, and contain some fiber, according to certified nutritionist Jessica Janc. The bars also make good on-the-run breakfasts and snacks, but choosing the top five depends on what you are looking to use them for and your personal goals
Meal Replacement
The Top 10 Supplements website rated the Met-Rx Big 100 as its No. 1 bar, and Men's Fitness rated it No. 4, because of its 30 grams of protein compared with 47 grams of carbohydrates. The "100" refers to the bar's weight in grams, not its calories, which clock in around 400. The bar also has 12 grams of fat, and both Top 10 and Men's Fitness note that you should consume it as a meal replacement, not just a snack, due mainly to its high protein and calorie content.
Vegan
The Simply Bar comes in a variety of flavors ranging from caramel to coconut, and both People for the Ethical Treatment of Animals and the website GoDairyFree rate these as the best vegan protein bars for their taste and because they are low in sugar. With just nine ingredients, the bars -- which are certified vegan -- have 16 grams of protein, only 4 grams each of fat and sugar and 5 grams of fiber, all packed into 160 total calories. PETA notes that the bars are made of a soy-and-pea combination that gives you all of the essential amino acids.
Low Sugar/Naturally Sweetened
Top 10 Supplements and Lean It Up rate the Bionutritional Power Crunch bar as No. 7 on their lists. It's another bar with more protein than carbohydrates -- specifically, 13 grams of protein compared with just 9 grams of carbohydrates. It is a bit higher in fat -- with 13 grams of fat, including 6 grams of saturated fat, but it is flavored with stevia and only contains 5 grams of sugar. According to LiveScience, stevia is a sugar substitute derived from the stevia plant that adds zero calories when used to sweeten foods, such as protein bars.
High Fiber
Nutritionists Young and Janc both rate the Quest Bar as the top protein bar, as does the nutrition website Lean It Up. And, it's not hard to see why -- this bar could easily top any of the previously mentioned categories, but it's the high fiber content of the bar that really stands out. Depending on the flavor, the bar has 170 calories, which pack 20 grams of protein, 24 grams of carbohydrates -- nearly 50 percent of the bar's calories come from protein -- a whopping 17 to 18 grams of fiber, just 3 grams of sugar and 5 grams of fat, including zero grams of saturated fat.
If you prefer a peanut-butter-flavored bar, it has slightly less sugar -- just 2 grams -- but 1 more gram of carbs: 25. Nutrition experts consulted by the New York Daily News also suggest that you use this bar as a meal replacement because of its high protein content, which helps rebuild healthy muscle tissue.
Low-Fat, Omega-3-Infused Snack
Oatmega has among the lowest levels of fat compared to most other protein bars. Lean It Up and Oatmega Bar, the company that makes them, note that the bars -- which range in flavor from chocolate mint to lemon chia crisp -- have 14 grams of protein, 23 grams of carbs, 7 grams of fiber, 8 grams of sugar but just 6 grams of fat, including 2 grams of saturated fat, packed into its 190 calories. Oatmega notes that the bar, made from grass-fed whey protein, also contains 300 milligrams of omega-3 fatty acids. The University of Maryland Medical Center notes that omega-3 acids are vital for your health, but your body doesn't make them -- you can only get them from food -- such as a protein bar.