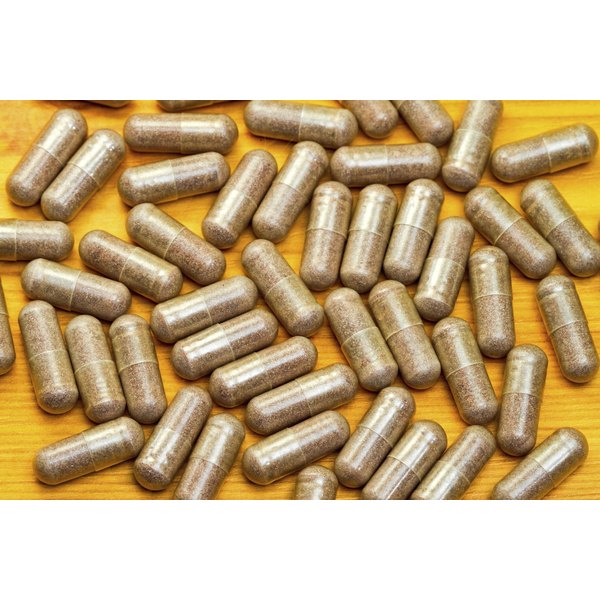 The acai berry is considered a "superfood" because it contains a plethora of health-promoting properties. It contains more than 10 times the amount of antioxidants of red grapes, many heart-healthy fats, fiber, a complex of essential amino acids and beneficial trace minerals. Acai berry supplements contain concentrated doses of acai berry along with other ingredients that offer a boost in vitality and improved weight loss. Choosing the right acai berry supplement from a host of brands can seem like an impossible task. Here are five of the most commonly sold brands on the market. See References below for full review information on these products.
Acai Balance
The makers of Acai Balance claim that the supplement has been made with sustainably harvested acai berry extract that was made from acai berries that were freeze-dried where they were picked. This allows the extract to remain fresh and more potent than many other supplements. Acai Berry also contains green tea extract, mangosteen fruit, and pomegranate extract, which are also full of trace nutrients and antioxidants. This supplement is rated as No. 1 "Editor's Choice" on acaiberry.org as it helps detoxify, cut bloating, burn fat, increase energy, and aid in weight loss in an ecologically friendly way.
Acai Berry Detox
This acai berry supplement contains a lot of fiber to help naturally cleanse your colon and clear your body of toxins. It also claims to contain acai berry extract. Consumers use this product to cut bloating, increase energy, and drop pounds quicker.
Vital Fusion 5
This weight loss supplement is said to contain acai berry extract as well as green tea extract and a variety of other helpful vitamins and minerals. The product also claims to help boost your energy and make you look youthful. While it is tough to scientifically quantify these claims, acai berry and green tea are high in antioxidants so have known health benefits. Note: Green tea extract contains caffeine, so you shouldn't take this weight loss supplement if you're sensitive to it.
Acai Pure
Acai Pure contains acai berry extract, among other ingredients such as fennel, licorice, and ginger. The supplement claims to help you lose weight, flush toxins from your body, and offer a natural energy boost. Product reviews indicate that users believe they lost weight through higher energy levels and reduced appetite, though there are no scientific studies to support these claims.
Acai Burn
The makers of Acai Burn claim their product helps you burn about four-and-a-half times more weight than you would without it. The berries in the product are certified, but you shouldn't use Acai Burn if you are sensitive to caffeine. It is one of the most commonly purchased acai berry supplements, but reviews about its efficacy are mixed. If you are trying to lose weight, you should use the supplement as it is intended: as a supplement to diet and exercise. Also, make sure that you fully read the "free trial" disclaimer on the Acai Burn website or you could face automatic credit card charges in the future.