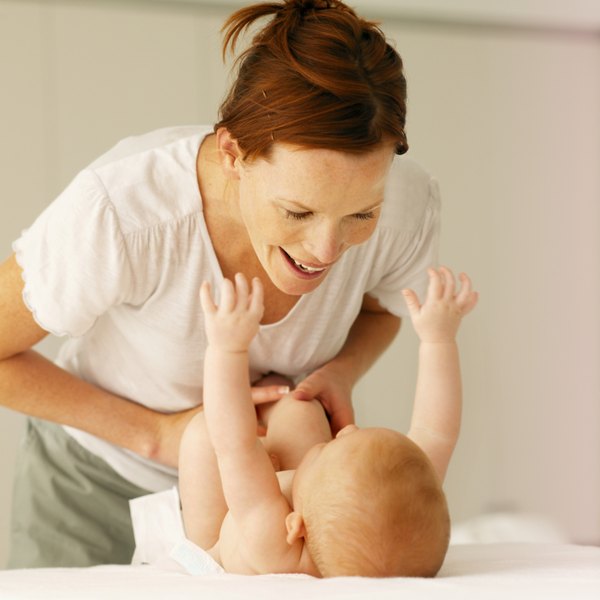 Eczema, also known as dermatitis, is a term for different types of skin swelling that causes red, swollen and itchy skin. Probiotics, also known as friendly bacteria and beneficial bacteria, live in the small intestines and vagina. Probiotics are available as capsules, liquid, tablets, suppositories and in foods such as live yogurt. Probiotics may be beneficial for certain health conditions such as eczema but always consult a healthcare professional before taking a probiotic.
Eczema
More than 15 million Americans suffer from eczema, according to the University of Maryland. A hypersensitivity reaction similar to an allergy is responsible for eczema. This reaction leads to long-term inflammation of the skin and the symptoms of the condition. Eczema patients often have a family history of allergies and many suffer from hay fever and asthma as well. Eczema is most common in babies and children. Conditions such as colds, dry skin, stress, feeling too hot or too cold and allergies to pollen, mold, animals or dust mites can make eczema symptoms worse. Typical eczema symptoms include oozing and crusting blisters, ear bleeding or discharge, areas of thickened skin and raw areas of skin from scratching.
Babies with Eczema
Researchers studied the effect of probiotics on 27 infants suffering with eczema in a study published in the 2000 issue of the journal "Clinical and Experimental Allergy." All 27 were exclusively breast-fed, never having infant formula, and their average age was 4.6 months. The improvement that came to their skin after daily administration of a probiotic supplement for two months caused researchers to conclude that probiotics may be helpful for childhood eczema.
Children with Eczema
Researchers also studied the effect of probiotics in 88 children with eczema from ages two to 10, in a study published in a 2010 issue of the "Annals of Allergy, Asthma and Immunology." The team found that taking a probiotic supplement daily for 12 weeks significantly improved eczema symptoms.
Considerations
Probiotic bacteria may grow too well in patients whose immune systems are weakened, such as AIDS patients, according to MedlinePlus. Although probiotic supplements have rarely caused disease in people with weakened immune systems, MedlinePlus recommends that if this is your condition, you should consult a healthcare professional before taking a probiotic supplement. MedlinePlus also recommends that patients with short bowel syndrome consult a doctor before taking probiotics because they are more likely to develop lactobacillus infections.