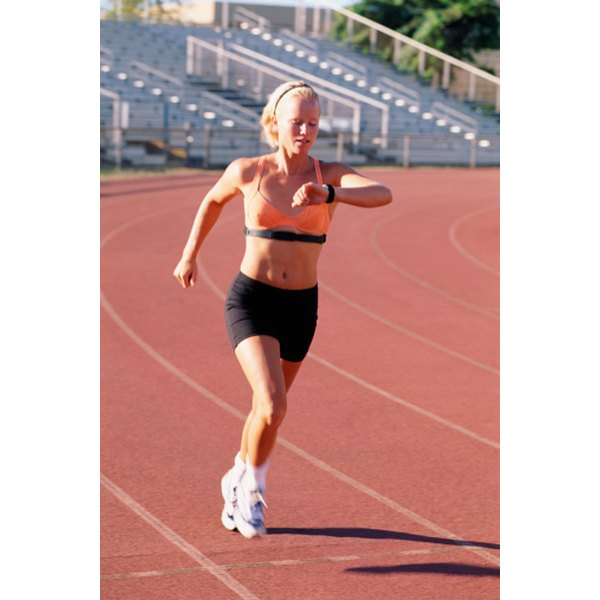 Heart rate monitors are available in a range of prices and with a variety of features. Even the most basic heart rate monitor display also functions as a watch. Any heart rate monitor can time an interval, but some models have the ability to set and store several timers to support high-intensity training intervals and cool down intervals.
Basic Models
Low-cost monitors with simple on/off features can be bought for as little as $20 at discount sporting goods stores, but most basic models cost $50 to $80. Timex, Polar, Nike and Adidas have models that show only the heart rate during exercise, and a touch of the button switches back to a time display. Timex and Polar monitors are available that have at least two interval timers.
Multiple Timers
More features mean a higher price, and many monitors in the $80 to $150 price range have 10 to an unlimited number of interval timers that are programmed by the athlete. Monitors from Garmin, Suunto, Polar, Nike and Adidas also work with smart phone applications or iPods. If desired, your smartphone can also be used as a separate timer from the heart rate monitor.
Software
Higher end monitors with separate timers come with computer software that keeps the workout archive. The interval timers are stored along with the heart rate and total time of workout and can interpolate data estimating maximum oxygen uptake and calories burned. It is a useful way to track progress in the workout program.
Other Considerations
Most heart rate monitors from Polar, Nike and Timex are waterproof. Not all Suunto or Garmin heart rate monitors are waterproof, especially as Garmin is a manufacturer of GPS units, a feature not used underwater. However, if sweating profusely or running in the rain is of concern, make sure the monitor is water-resistant. Another feature to consider is battery replacement. While under warranty, Polar requires customers to send their heart rate monitors to an authorized service center for replacement.