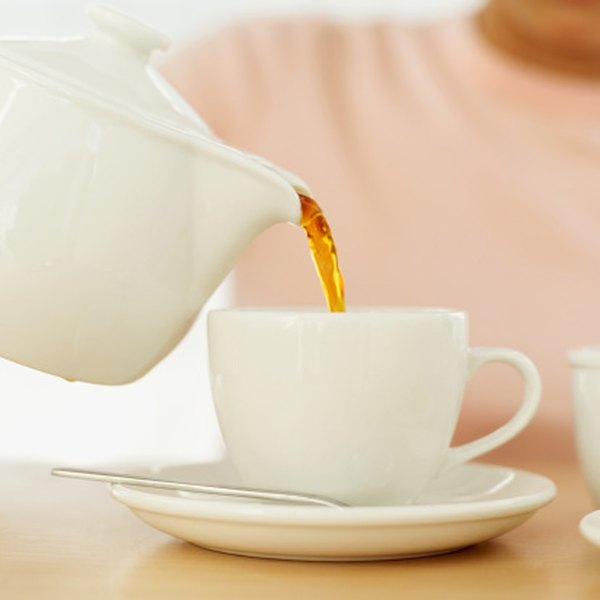 Tea's soothing and stimulating effects appeal to people worldwide. Black tea comes in a variety of flavors, from classics such as Earl Grey to exotic blends with spices and fruit. Consuming black tea to excess increases your risk of side effects and can be harmful for pregnant women and people with certain medical conditions, according to National Institutes of Health online medical encyclopedia Medline Plus. Talk to your doctor about black tea and your overall caffeine intake.
Black Tea
Plain black tea contains no fat and provides an antioxidant-rich energy boost due to its natural polyphenols and caffeine. Tea plants produce natural chemicals called polyphenols. Polyphenols have antioxidant activity in the body, and preliminary research suggests antioxidants may help protect against certain chronic diseases. Black tea promotes mental alertness, according to Medline Plus. It contains 9 mg to 50 mg of caffeine per 8-oz. cup, according to the Linus Pauling Institute Micronutrient Information Center. Although drinking black tea in moderation is considered safe for healthy adults, excess black tea can cause side effects.
Effects
Black tea's antioxidants may protect the heart and blood vessels, according to Medline Plus. Black tea may help prevent Parkinson's disease and reduce the risk of of certain cancers. Flavored black teas contain higher levels of catechins and other flavonoids than fruit teas and premium black teas, researchers from Poland's University of Warsaw reported in the March 2011 "European Journal of Nutrition." The researchers suggest that these flavonoids may reduce blood sugar and add more antioxidants to the diet. Earl Grey -- flavored with bergamot, a citrus essence -- is a popular flavored black tea. Flavonoids in tea -- flavanol monomers -- are also known as catechins, says the Linus Pauling Institute.
Caffeine
Black tea's caffeine has a diuretic effect, which increases urination. Caffeine may also promote thermogenesis, an increase in the body's heat that burns more calories, and may have an appetite suppressant effect for weight loss, says dietitian Katherine Zeratsky at MayoClinic.com. Zeratsky says that caffeine's diuretic effect doesn't lead to lasting weight loss. If you have a low appetite from age or a medical condition, the possible appetite suppressant effect from excess caffeine in black tea may make it more difficult to eat enough to obtain sufficient energy and nutrients.
Side Effects
Drinking more than five cups per day may be too much black tea. The excess black tea could cause side effects from its caffeine content. In addition to urinating more frequently from consuming excess black tea, caffeine's side effects can include nervousness, irritability, confusion, headache, sleep difficulties, vomiting, diarrhea, heartburn, ringing in the ears, dizziness, tremor, irregular heartbeat and convulsions, according to Medline Plus. Drinking black tea and other sources of caffeine regularly can result in psychological dependence. Pregnant and breastfeeding women should ask their doctors about caffeine consumption.