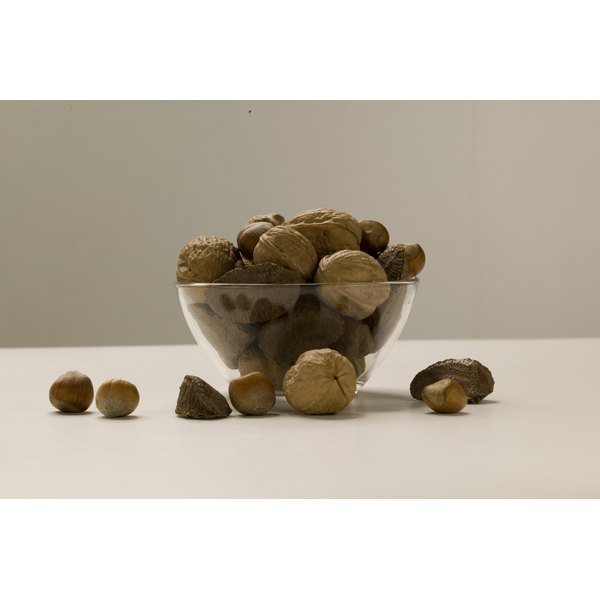 L-arginine, also referred to as arginine, is an amino acid that plays an important role in protein synthesis, wound healing and removal of nitrogen waste product from the body, according to Rob Egbers and Dr. Sean Kestrson of the University of Michigan Medical School. When consumed in the proper dosage, L-arginine may be able to help build muscle tissue more efficiently by increasing blood flow to the muscles.
Athletic Performance
According to Kestrson, improved athletic performance may be achieved by consuming 4 g to 5 g of L-arginine about one or two hours before you exercise. The benefits include increased blood flow and improved nitrogen balance within the body. Both of these effects are beneficial if you're looking to increase muscle mass. Kestrson also says that more research needs to be done before it can be conclusively said that L-arginine benefits athletes in any way.
Treatment
L-arginine can be used to treat several diseases and health disorders. According to the Mayo Clinic, arginine is used in some cases to treat people with growth deficiencies, patients with high ammonia levels in the bloodstream and coronary artery disease. Evidence shows possible other treatment applications, such as for heart failure and migraines, but more research is needed. Dosing varies from person to person, but the Mayo Clinic says a common dose is 2 g to 3 g taken orally three times per day. This dosing may last up to six months, but your doctor may recommend a different timetable.
Food Sources
This amino acid is found naturally in whole foods. It is found primarily in nuts and seeds such as walnuts, pecans, sunflower seeds and almonds. It can also be found in chicken, corn and dairy products. According to the U.S. Department of Agriculture's Nutrient Database, 1 oz. of walnuts contains about 0.646 g of arginine, 1 cup of sunflower seeds has 3.364 g of arginine and 8 oz. of yogurt contains about 0.39 g of arginine.
Safety
Although arginine is a naturally occurring amino acid, it does have risks when consumed in supplemental form. Kestrson says supplementing arginine may increase virus growth if you have the herpes simplex virus. Other negative symptoms of consuming too much arginine include headache, weakness and diarrhea. The Mayo Clinic says that children under the age of 18 should not take L-arginine supplements because they have not been proven to be effective or safe in children as of 2011.