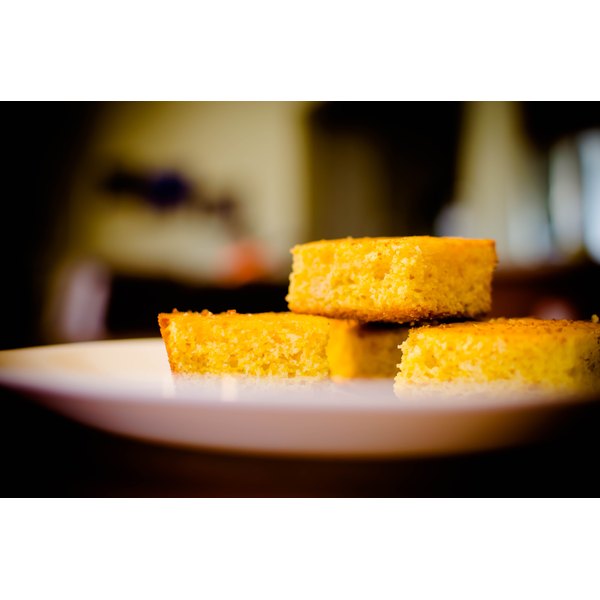 Made from high-carb ingredients like cornmeal, flour and sugar, traditional corn bread has nearly 30 grams of net carbs per serving. For reference, net carbs refers to the digestible carbs and are commonly used when counting carbs on a low-carb diet. The carb count in corn bread makes it a tough fit for most low-carb plans. Luckily, you can make it low-carb using alternative ingredients that help create the right flavor and texture with fewer carbs.
Flour Options for Low-Carb Corn Bread
Keep carb counts low in your corn bread using lower-carb flours. Using a mix of flours, such as oat, almond and coconut with a hint of masa, which is corn flour, creates a tasty bread with the right flavor and texture. Although higher in carbs with 13 grams of net carbs per 1/4 cup, chickpea flour has a nice flavor that works well for creating a lower-carb corn bread. If the chickpea flour is too high in carbs for you, try almond flour, with 3 grams of net carbs per 1/4 cup.
Getting That Corn Taste Without Cornmeal
With 21 grams of net carbs per 1/4 cup, cornmeal is a tough ingredient to use when you're trying to create a low-carb corn bread. To get the corn flavor without the carbs, you need to be creative. You might have to experiment a bit to find the ingredients that work for you and your taste buds. A dash of corn extract, for example, adds the flavor you crave -- without any carbs. A protein powder, or even ground pork rinds, may work for enhancing the flavor and texture. For sweetness, replace the sugar with a low-carb artificial sweetener.
Wet Ingredients Bring Low-Carb Corn Bread Together
The wet ingredients for a traditional corn bread recipe include butter, eggs and milk. Butter and eggs won't add carbs and might work in your recipe. But, to reduce carbs, replace cow's milk with a low-carb alternative such as unsweetened almond milk. For airiness, add vinegar such as apple cider vinegar, to your batter. For a richer texture, sour cream or Greek yogurt might work. Both are a source of carbs, with 1 gram of net carbs per tablespoon of sour cream and 7 grams of net carbs per 6-ounce container of plain Greek yogurt.
Tips and Suggestions
Low-carb flours may not bake like the higher carb varieties, so you may need to do a little experimenting with amounts and ingredients in order to get the right balance that creates a tasty corn bread with the right texture. Almond flour, for example, is fattier and denser, and you may need to add more leavening agents, such as eggs, vinegar or baking powder, to create a lighter bread. Coconut flour absorbs liquid quickly, and adding more wet ingredients might be necessary to get the right consistency. While it's higher in carbs, the chickpea flour is also higher in protein, which helps create a tender, but also dense, bread.
To add a little more flavor to your corn bread, mix low-carb ingredients into the batter before baking. Good options include diced ham or bacon, chopped jalapeno peppers, grated zucchini or cheese.