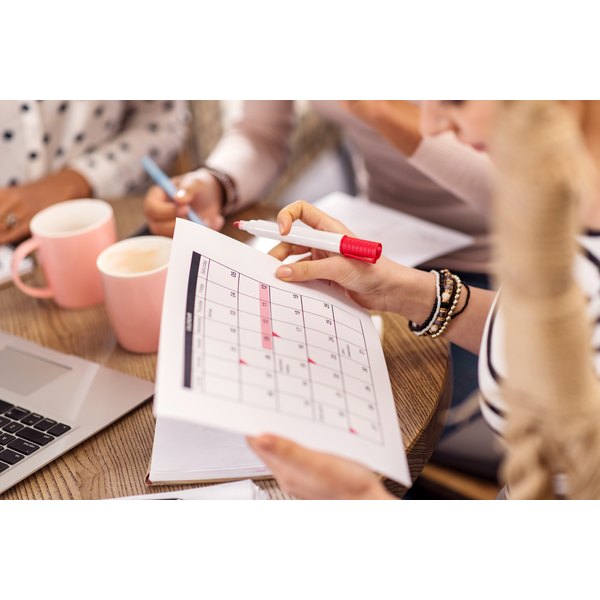 If you're looking to lose weight, a 1,200-calorie diet should be about the bare minimum number of calories you'll want to consume, especially if you're active.
Seeing a registered dietitian for an individualized weight loss plan is always your best option. You can also use a calorie-tracking app like LIVESTRONG.COM's MyPlate to help you figure out your caloric needs and track how much you consume.
However, it is good to know that for most people, eating 1,200 calories per day results in weight loss while providing adequate nutrition if you choose the foods you eat wisely.
Planning Your Meals and Snacks
Planning your meals is essential when it comes to a reduced-calorie diet. Keeping a food diary or an online journal, like LIVESTRONG's MyPlate, can help.
Try to eat three meals and one or two snacks per day to stave off hunger. Aim for around 300 calories at breakfast, lunch and dinner. That will give you the option of having two snacks that contain 150 calories or one snack that contains 300 calories in between meals.
Breakfast
For breakfast, an eight-ounce blended shake or a breakfast sandwich will satisfy you until lunch. For a shake, use half a cup of light or unsweetened almond or soy milk, which are heart healthy. Add half a cup of nonfat Greek yogurt for protein.
Use two cups of spinach or kale. Add two tablespoons of Chia seeds for a healthy dose of fiber, protein and healthful fat. To add a bit of sweetness — as well as up your vitamin and mineral intake — add one fruit serving. Options include half a large banana or 1.25 cups of strawberries. In total, this smoothie has only 280 calories.
If shakes are not for you, try a breakfast sandwich. Here's a good example: four cooked egg whites or a half cup of egg substitute, two slices of turkey bacon, half a cup of spinach and one slice of tomato on a toasted whole wheat English muffin. This sandwich has 275 calories.
Lunch
When lunch comes around, think salads and lean protein. For fiber and nutrients, have 1.5 cups of lettuce, half a cup of cherry tomatoes and one small cucumber.
For filling protein and fiber, have half a cup of cooked quinoa or black beans, and three ounces of lean chicken breast. For added flavor, use low-calorie dressing or two teaspoons olive oil with two teaspoons balsamic or red wine vinegar. In total, this lunch option has 205 calories.
Dinner
Four ounces of lean chicken, fish or beef for dinner will provide you with 150 to 200 calories. Your starch, which should provide around 70 calories, can be either one small potato, one whole wheat dinner roll or one third of a cup of cooked brown rice or whole-wheat pasta.
Eat non-starchy vegetables on the side, for example a half cup of cooked asparagus, broccoli or cauliflower, which provide 20 to 40 calories. Use one teaspoon of olive oil or cooking spray, which provide approximately 40 calories, to cook the entire meal. All told, this dinner would be about 350 calories.
Snacks
Snacks should include fruit or vegetables with a serving of protein. For a 150 calorie snack, have a small apple paired with two wedges of light brie or string cheese. If you want a 300-calorie snack, pair a small banana and one large celery stalk with two tablespoons of natural peanut butter.
More About MyPlate
The free LIVESTRONG MyPlate calorie tracker app for iPhone and Android has helped millions of people lose weight the healthy way — by getting support from an active community as they track their eating and exercise. Consistently a top-rated app, MyPlate offers the latest technology in an easy-to-use tool that includes millions of foods and recipes, 5-minute in-app workouts and a robust support community.