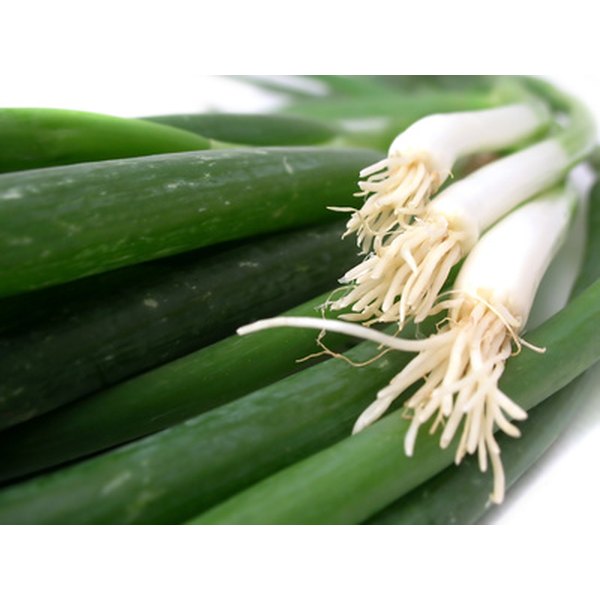 Scallions add flavor and crunch to dishes. This thin spring onion variety is almost entirely edible, with the exception of the roots. This vegetable contains a range of nutritional benefits, including healthy macronutrients and vitamins. It is also low in calories and fat and may provide some additional health benefits.
Calories and Protein
Scallions are a low-calorie vegetable, containing 32 calories per 1-cup serving. While you can eat scallions alone, it is more common to eat this vegetable as part of a larger recipe or sprinkled over top of a dish, so your total caloric intake is much greater. One serving of scallions provides little in the way of protein – 1.8 g. This amount accounts for 1 to 3.6 percent of the protein you need each day.
Carbohydrates and Fiber
Eat a serving of scallions, and you take in 7.3 g of carbohydrates. Your meal plan needs far greater intake than this -- 225 to 325 g per day -- but the amount you consume will likely be higher due to the scallions' typical usage as part of a recipe. The carbs in this vegetable are critical, however, as they contribute toward energy stores. Scallions offer up fiber, with 2.6 g per serving. Endeavor to include 22 to 34 g of fiber in your diet daily.
Fats and Fatty Acids
Scallions have only trace amounts of fat. One serving provides 0.1 g of fat. Your body needs fat to function, but you do not require a great deal of it. Aim for maximum intake of 20 to 35 percent of your daily calories from fat. You take in small amounts of essential fatty acids by consuming scallions. One serving has 4 mg of omega-3 fatty acids and 70 mg of omega-6 fatty acids.
Vitamin K
Scallions are an excellent source of vitamin K -- 1 cup contains 259 percent of the daily recommended intake of this vitamin. The vitamin K in this vegetable plays an important role in normal blood clotting. A study published in the April 2011 issue of the journal "Nutrition" indicates that vitamin K may also have a bearing on inflammatory bowel disease. Patients with this condition tested with a vitamin K deficiency. More research is needed to confirm this finding.
Cancer Benefits
Consuming scallions may offer you chemopreventive benefits. Evidence in the July-September 2004 edition of the "Asia Pacific Journal of Cancer Prevention" correlates the intake of allium vegetables, such as scallions, with a reduced risk of several types of cancer. Additional research is required to confirm the usefulness of scallion as a cancer-fighter.