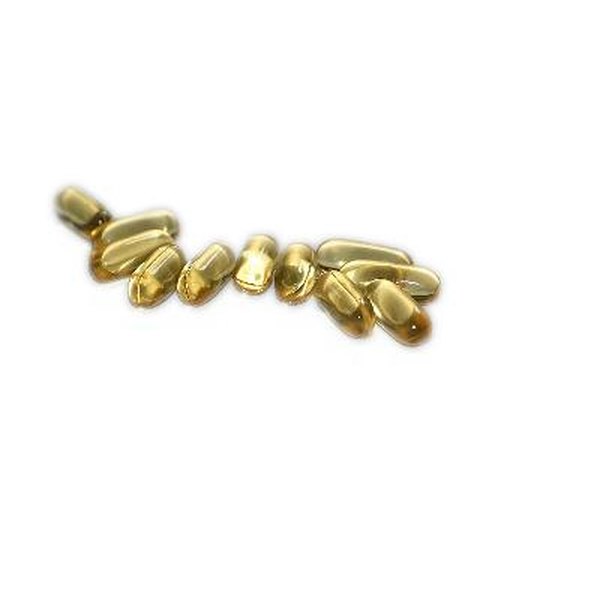 The shelves of health food stores are full of supplements that claim to reduce a range of health conditions, including heart disease. Two popular supplements are coenzyme Q10, often abbreviated CoQ10, and fish oil. These compounds may be effective in reducing heart disease, although additional research is needed to confirm these claims. Like all other health supplements, ask your doctor before taking CoQ10.
Coenzyme Q10
Coenzyme Q10 is naturally produced by the human body and shares many characteristics with vitamins. Many health conditions, including heart disease, high blood pressure and Parkinson's disease may gain benefit by CoQ10, but there is not currently enough evidence to say for certain, explains Medline Plus. Coenzyme Q10 is synthesized in the laboratory and is often sold by itself as a nutrition supplement or added to other health supplements.
CoQ10 in Fish Oil
Fish oil is another dietary supplement often taken to treat heart disease. Although fish oil does not naturally contain CoQ10, you may find health supplements that combine fish oil and CoQ10 in a single pill. Manufacturers claim that taking CoQ10 at the same time as fish oil may improve the health benefits of both supplements, but these claims have not been thoroughly researched.
Active Ingredients in Fish Oil
The main active ingredients in fish oil are the omega-3 fatty acids docosahexaenoic acid, or DHA, and eicosapentaenoic acid, or EPA. These two omega-3 fatty acids lower levels of fat molecules in the blood known as triglycerides, especially when used in conjunction with other cholesterol-lowering medications such as statins, according to a study published in the medical journal "Nutrition and Health". Fish oil may also play a role in treating other health conditions, including high blood pressure and arthritis, but additional research is needed to form definitive conclusions.
Other Ingredients in Fish Oil
Fish oil may contain other inactive ingredients, including glycerin, gelatin, water, methacrylic acid copolymer, propylene glycol, glyceryl monostearate, triacetin, triethyl citrate, polysorbate 80 and d-alpha tocopherol. The exact list of inactive ingredients may differ between products. Some fish oils, such as cod liver oil, also contain vitamins D and A.