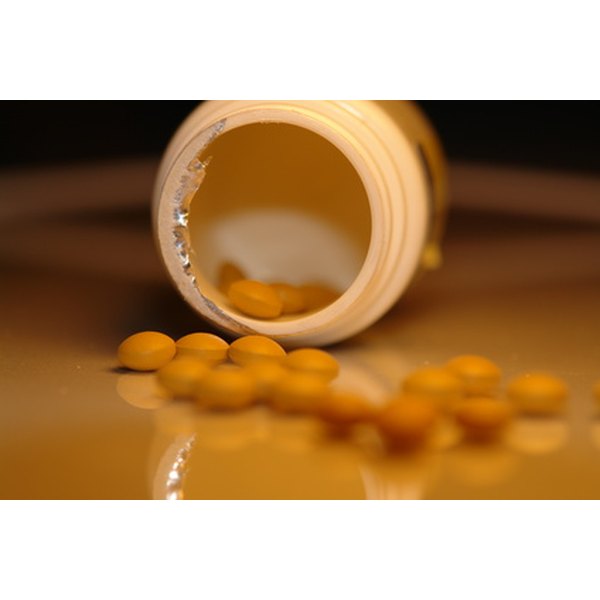 Weight loss pills are appealing to a wide range of people. Whether you are looking to lose a few pounds before summer or a large amount for health reasons, the quick weight loss often promised by diet pills is hard to ignore. Two popular diet pills, Slimquick and Alli, contain different ingredients and are targeted to specific audiences. Before beginning the use of these or any other diet pills, speak with your physician.
Alli
Alli is the first diet pill to be approved by the Food and Drug Administration. The main ingredient in Alli is the drug Orlistat. Orlistat works by keeping your intestines from absorbing fat. The unabsorbed fat then leaves your body through regular bowel movements. Although FDA-approved, Alli does have some uncomfortable side effects like oily spotting, loose stools and more frequent stool elimination.
Slimquick Cleanse
Slimquick diet pills are marketed specifically to women, and there are several options available. The Slimquick cleanse is a seven-day jump-start pill for a new diet and exercise routine. Slimquick claims to detoxify your body of toxins and waste. It states it works in six ways: promoting energy, flushing toxins, improving digestion, increasing metabolism, cleansing the colon and balancing blood sugar. There is not sufficient evidence to support the claims of the Slimquick cleanse or the benefits of cleansing regimens.
Slimquick Fat Burner
Slimquick claims its Fat Burner will reduce excess water retention, burn calories, reduce stress, increase metabolism, increase energy and reduce your appetite. The Fat Burner comes in packet and capsule forms, but contain the same ingredients. Like other Slimquick products, there is insufficient evidence to support the claims made by Slimquick regarding its Fat Burner.
Other Slimquick Varieties
Besides the Slimquick Fat Burner Pills, there are four other versions of Slimquick pills available: caffeine free, hoodia, all natural and appetite control pills. Each is based on the Fat Burner pill, but focuses on a specific area to meet different clients' needs. Like the Slimquick products, claims have not been proven.
Safety
The FDA does not regulate Slimquick products because they fall into the dietary supplement category. Many regulations and claims do not have to be proven before diet pills go on the market. This can result in the use of unsafe ingredients and false claims. If you are thinking about using any of these diet pills, be sure to consult your physician. Bring in packaging if possible so that your doctor can explain ingredients and possible side effects you might experience.