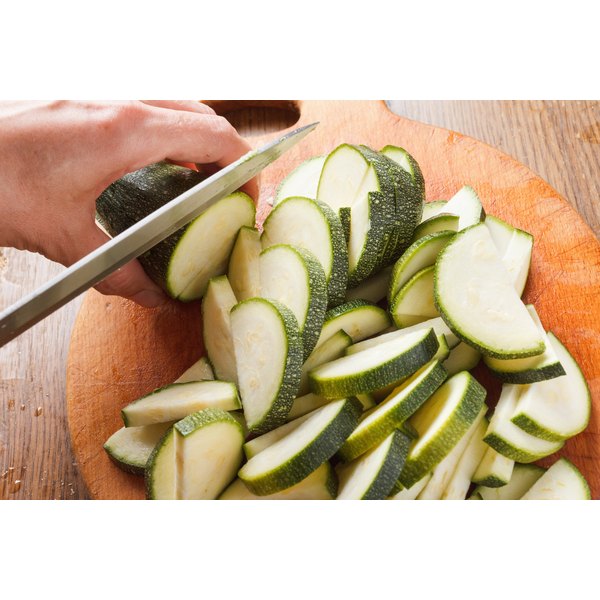 Zucchini contains 35 percent of your daily requirement for vitamin C as well as smaller amounts of vitamin A, calcium and iron. Moreover, zucchini contains carotenoids, which are nutrients that help protect your eyes from cataracts, macular degeneration and other eye problems associated with aging, according to research at the University of California Berkeley. Long a mainstay of Italian and Mediterranean fare, zucchini lends itself well to sauteing as it cooks quickly and goes well with a variety of flavorings.
Traditional Cooking Method
Heat olive oil in a frying pan over medium heat. Use oil even if you use a nonstick pan, to add flavor to the zucchini and to help it brown.

Slice very small zucchini into whole rounds. For medium or larger zucchini, cut it first lengthwise and then slice half-round pieces, which are easier to eat.

Add the zucchini to the pan, sprinkle with salt and pepper and begin cooking, turning occasionally with your spatula or just flipping the pan to move the pieces around. Avoid turning the pieces too often -- you want them slightly browned.

Add the minced garlic after cooking the zucchini for about 2 minutes. When you can easily pierce the pieces with a knife, they're done.

Sprinkle the zucchini with lemon juice and parsley before serving. Add more salt and pepper, if desired.
Zucchini Noodles
Heat the oil over medium-high heat in a large frying pan. A grill-pan adds attractive grill marks to the zucchini but you can make zucchini noodles without it, as well.

Slice the zucchini lengthwise into large pieces about 1/4-inch thick. Or, slice large diagonal pieces, also 1/4-inch thick.

Place the zucchini in the pan without letting the pieces overlap. Let them cook for 3 to 4 minutes without turning, until browned on one side.

Turn the zucchini and cook for another 3 to 4 minutes. Check them occasionally to ensure that they're not burning.

Add salt and pepper to the pieces. Sprinkle with red pepper flakes and parsley before serving for added flavor, if desired.

Tip

When shopping, select smaller rather than larger zucchini, because they are younger and will have more tender flesh with fewer seeds.

Zucchini pairs well with the herbs marjoram, lemon thyme and sage and also with feta, Parmesan and goat cheese, tomatoes and wine or balsamic vinegar.