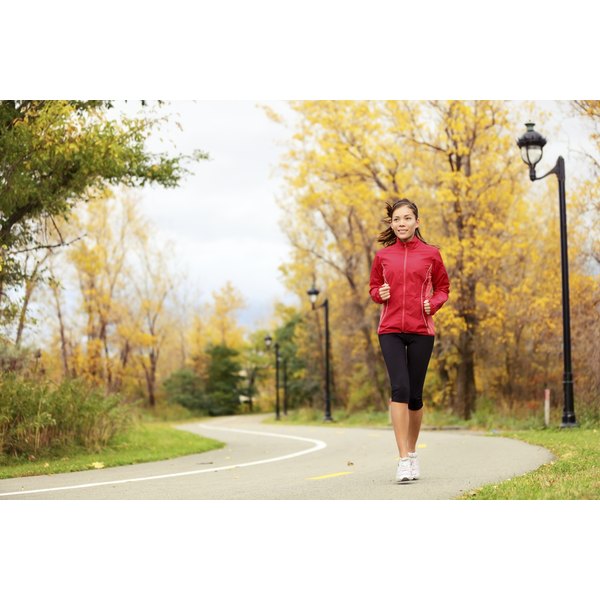 Estrogen fluctuations affect women throughout their lives and commonly are viewed as nothing more than an annoyance. However, high estrogen levels come with a significant set of risks, especially as women get older. There are many ways to combat high levels of estrogen, and one of the healthiest is exercise.
HIgh Levels of Estrogen
High levels of estrogen are associated with an increased risk of breast cancer. Post-menopausal women have an even higher risk of developing cancer because their breast tissue has been exposed to estrogen for substantially longer than younger women, according to the National Cancer Institute. While pre-menopausal women get their estrogen from their ovaries, post-menopausal women get their estrogen from their body fat. Having large deposits of fat can increase estrogen levels in post-menopausal women.
Estrogen Reducer
According to a 2002 study by the National Cancer Institute, regular exercise can cause a significant decrease in estrogen levels, particularly in post-menopausal women. The study suggested that any type of exercise was effective in decreasing the cancer risk, as study participants developed their own exercise routines. A 2011 study published in the "Journal of Applied Physiology" demonstrated the benefits of cardiovascular exercise. This study found that pre-menopausal women who did cardiovascular exercise for 300 minutes a week showed significant reductions in their estrogen levels, suggesting that cardio exercises are most effective at reducing estrogen levels. Cancer.gov recommends exercising four or more hours a week to receive the benefits of decreased estrogen.
Benefits of Lowered Estrogen
The biggest plus to lowered estrogen levels is a decreased risk of breast cancer, according to BreastCancer.org. Additionally, lowered estrogen has been linked to a reduced chance of endometrial and ovarian cancer.
Dangers of Low Estrogen
Low estrogen levels are not without their risk. A lack of estrogen can lead to osteoporosis and other serious health concerns. Exercise is very unlikely to lower your estrogen to unsafe levels, but you should talk to your doctor before beginning an exercise regimen, especially if you're not undergoing hormone replacement therapy.