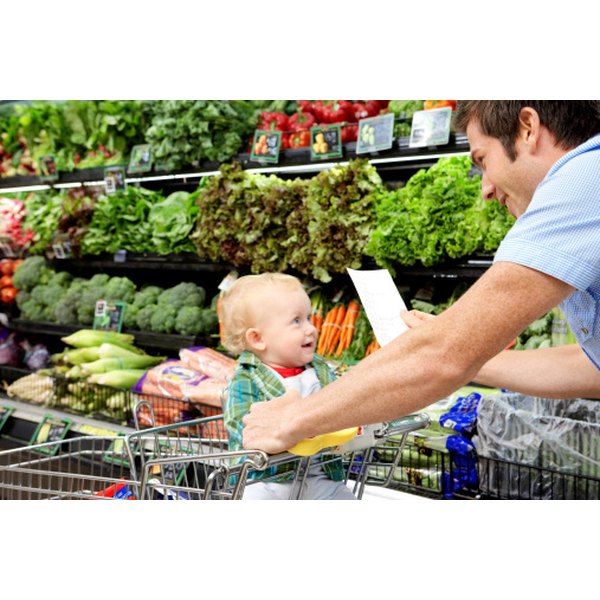 We've all said it before – that this Monday is going to be the Monday that we change the way we eat. After all, the start of the week provides a clean slate and a chance to break the spiral of bad habits we've adopted because life just seemed too busy to worry about a balanced diet and the food pyramid.
But let's face it, veering off the road to healthy eating is all too easy. So here's a plan to keep you on track, no matter the situation.
Planning and preparation are the biggest keys to making a healthy lifestyle.

Angela Ginn, registered dietitian and owner of Learn-2-Live, a nutrition counseling service in Maryland.
Getting Started
No amount of stressful projects that usually send you running toward the vending machine can set you off course if you start your week with a good plan.
"Planning and preparation are the biggest keys to making a healthy lifestyle," said Angela Ginn, a registered dietitian who owns Learn-2-Live, a nutrition counseling service in Maryland.
Her advice? Take a few minutes to sit down and think about your week. Make a grocery list with some clear goals. Consider what proteins you'd like to eat this week. Also, ensure your list includes whole grains, low-fat dairy products, eggs, fruits and vegetables -- which Ginn says should fill 60 percent of your shopping cart.
Making a game plan will ensure that you're ready to go when hunger strikes. That way, there's no way you can make an excuse for Chinese takeout over the healthy meal you had originally planned.
Breakfast
It's all too easy to opt for a bagel and cream cheese or a sugary cereal if that's what you have in your pantry. To ensure your breakfast -- often the most hastily eaten meal of the day -- is more balanced, fill the kitchen with high-fiber protein bars, yogurt, fruit, eggs and whole-grain cereals or oatmeal. If healthier breakfast options are readily available, that pit stop at the doughnut shop will be easier to avoid.
If you're the type who craves sugar with your coffee and hears the pastries at the bakery next to your office calling your name, try Ginn's signature smoothie recipe. It's sweet, low fat and you can make it in mere minutes:
Blend together 1 cup of frozen, unsweetened fruit, 6 oz. of Greek yogurt or 1 cup low-fat milk, spices such as cinnamon or ginger, and two to three scoops of whey protein, and you'll be on your way in no time.
If you have a few minutes to sit down and read the paper but not enough time for anything that involves a frying pan, Karen Ansel, a registered dietitian and co-author of "The Baby & Toddler Cookbook," suggests a whole grain cereal topped with walnuts, fresh fruit and 1 percent milk. It's filling and will keep you going until lunch.
Your kids need something that will not only fill them up but something that's tasty, too. And you'd prefer not to have to make a separate meal for yourself.
Whip up a breakfast burrito. Use a whole-grain tortilla and fill it with a scrambled egg, a sprinkling of cheese and any vegetables you have in stock -- think tomatoes, peppers or onions.
Lunch
The best way to fight the urge to order out with your co-workers or to cave to that stress-induced craving for a slice of pizza in the middle of the work day is to make sure you've packed a lunch that's not only healthy, but one you'll enjoy.
"Don't force yourself to eat things that you don't like," said Tricia Williams, a culinary nutritionist who owns Food Matters NYC, a health-conscious catering and nutrition counseling company.
For one lunch option, Ansel suggests a different take on your average deli sandwich. Try layering your turkey on a whole-grain roll with brie, lettuce, tomato and honey mustard.
Or change it up by using different spreads. Ginn suggests hummus, pesto or mashed avocado. A rule of thumb, use no more than three pieces of deli meat on your sandwich. And when it comes to produce, "add at least two different colors for more antioxidant power," Ginn said.
If packing a lunch isn't an option, there's no shame in grabbing a can of low-fat soup (check out your grocery aisle -- there are more options than you may realize) or even a healthy frozen meal. Just keep an eye on the sodium count on the back of the package, Ginn said. Stay away if it contains more than 500 mg of sodium.
Dinner
With dinner, portion size is often the place where people go astray.
Ansel's mathematical equation will keep your waistline in check: Half the plate should be filled with vegetables, a quarter should be lean protein and the other quarter should be high-fiber complex carbohydrates such as a small baked potato, brown rice or whole-wheat couscous or pasta.
If you have a family to feed but don't have the time or the budget to cater to everyone's different tastes, try chicken with steamed vegetables. Buying frozen vegetables is not only convenient, it's healthy, too.
"Frozen vegetables are picked at the peak of ripeness," said Ginn, who suggests learning to cook a whole rotisserie chicken. It's cheaper and will go farther.
Sometimes, you need something that you can prepare ahead of time and have ready in minutes.
Cook a whole-wheat pasta with low-fat sauce, turkey meatballs -- the meat is much leaner than ground beef -- and a side salad. The meatballs can be made ahead of time, and leftover salad can double as lunch the next day.
If you're tired and the last thing you need is a mess in the kitchen, cook fish in a foil packet and avoid the cleanup all together.
Take a fillet of salmon, or whatever fish suits your fancy, and squirt it with lemon juice and a pinch of salt and pepper. Lay it over a sheet of foil. Chop up whatever vegetables you have on hand -- onions, zucchini, asparagus or string beans -- and pack them into the foil as well.
Heat the oven to 400 degrees Fahrenheit and cook for about 25 minutes, until the fish is flaky and - voila! - your meal is served and there are no pans to scrub.
Make Your Meat Versatile
Here's a healthy meatball or meatloaf recipe courtesy of Tricia Williams, a New York City chef whose business, Food Matters NYC, delivers healthy meals to city dwellers every day. Make this on Sunday and you're set for several meals.
Turkey Quinoa Meatballs or Turkey Quinoa Meatloaf Servings: 6 to 8 2 cups quinoa, cooked 1 pound ground turkey 1 Tbsp. safflower oil ½ cup carrots, small dice ½ cup celery small dice 1 red pepper, small dice 1 yellow pepper, small dice ½ cup Spanish onion, small dice 1 egg 1 Tbsp. chopped parsley sea salt and pepper to taste
Directions Heat a large sauté pan over medium heat. Add oil, carrots, onions and celery. Cook until vegetables are soft, about 5 minutes. Add peppers and continue cooking until peppers are soft, about three minutes. Remove from heat, set aside to cool. In a large mixing bowl combine turkey, quinoa, vegetable mixture, parsley, eggs, sea salt and pepper. Mix by hand until ingredients are thoroughly combined.
For meatballs: Roll into 1 inch balls. Brown in a nonstick skillet, turning frequently.
For meatloaf: Heat oven to 350 degrees Fahrenheit. Pack mixture into a nonstick 10 inch meatloaf pan. Glaze with applesauce or ketchup, if desired. Cook for 45 minutes or until internal temperature reaches 155 degrees. Let cool. Refrigerate up to three days.