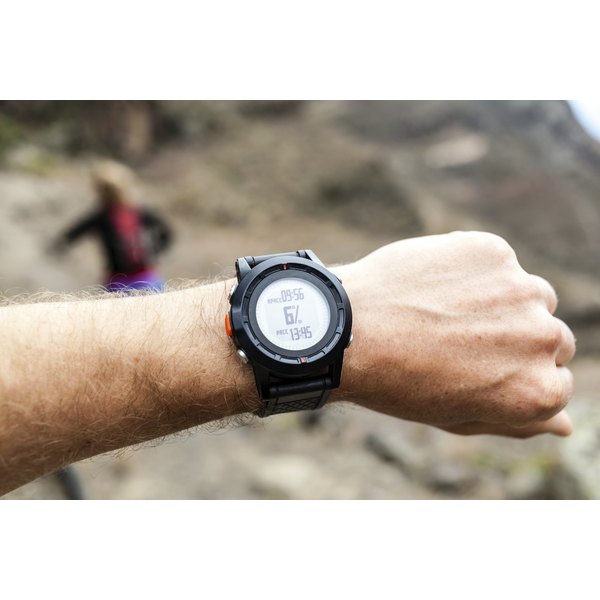 Your exercise level affects your heart rate. A heart-rate monitor can help you track your heart beats so you can continue exercising while monitoring your performance. You may want a waterproof heart-rate monitor if you plan to use the equipment while swimming, during rainy weather or if you tend to sweat a lot. Your options for a heart rate monitor include a wrist version, a chest strap or ear clip-on. The best choice for you depends on your personal preference and your reasons for wearing the monitor.
Heart-Rate Monitor Display
Many heart-rate monitors transmit your information from a chest strap to a watch that you wear on your wrist. Two examples: the Polar FT1 and Polar FT2. The Polar monitors immediately display your heart rate from the strap to the watch so you can train at a consistent level. Some monitors, such as the Sportline 960 uses only a watch to measure and display your heart rate, but rate a little lower than chest straps on accuracy. However, if you find the strap uncomfortable, the Sportline 960 is a great option for quick display of your heart rate and tracks your calories burned. If you do not need to see your heart rate, but want to hear it, you can select the Finis Aqua Pulse, designed for swimming. This unit attaches to your goggles and you place an electrode inside your ear so you can monitor your pulse.
Waterproof
The Polar FT1 and FT2 displays are water resistant to 100 feet. The Sportline 960 watch band monitor is water resistant to 164 feet. Water resistant does not mean you can use the displays while diving. Polar does not recommend pressing any of the buttons while the watch is in the water. The Aqua Pulse is completely waterproof.
You can select different chest-strap models to transmit your heart rate to your Polar displays. The Polar T31 chest strap is 100 percent waterproof. All of the electrical components are encased inside the monitor so it will not corrode when exposed to water during swimming, sweating or rainy weather.
Ease of Use
The Polar FT1 allows you to manually select your target heart-rate range. This is important if you have a lower or higher than normal resting heart rate, as your workout heart rate will not fit into the age-predicted categories. The FT2 pre-sets your target heart rate based on your age. The Sportline 960 is available with three pre-set heart ranges and one that you can program based on your individual preference. The Aqua Pulse does not need to be programmed as it transmits the sound of your heart rate and not the number. You place the unit in your ear and begin to swim.
Chemical Interference
Polar cautions that high chlorine content in pool water may interfere with the signal. You may also experience interference from lotions on your skin, or the composition of your skin. If one type of monitor does not give you accurate results, try another type until you find the best monitor for your body.