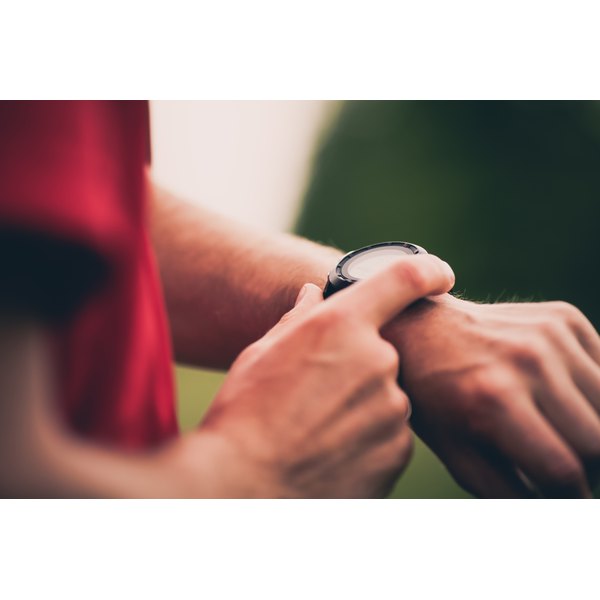 Monitoring your heart rate is an integral part of any training and fitness program, particularly when performing cardio exercises or routines. Its importance lies in measuring the effectiveness of the training. Whether your goal is to win a professional tournament or just to lose some pounds, staying in your cardio zone is vital. There are various brands of heart rate monitors available in the market that differs in their usage, functionality, and quality. Choosing the one right for you requires a little research and knowledge about the types of heart rate monitor available in the market.
Training Aids
Professional athletes regularly use heart rate monitors as a training aid to measure the intensity of their workouts. The American Council of Exercise suggest that measuring your heart rate can help you determine what the most effective cardiovascular training program may be for you. The most popular name brands of heart rate monitors include Timex, Polar, Garmin, Mio, and Suunto. Most are commonly available in two main styles: chest strap or fingertip sensor. Chest strap models are strapped around your chest and send data wirelessly to a wristwatch style receiver. In contrast, you wear the fingertip sensor model on your wrist. The best rated heart rate monitors are those that are packed with features, accurate and easy to use, and maybe - depending on your situation and goals - price.
Chest Strap Heart Rate Monitors
The chest strap heart rate monitors are more accurate than fingertip models, but also more expensive. The most well trusted and popular brands of chest strap models include Garmin FR70, Timex Ironman, and Gaiam Touch. Garmin FR70 may be the best heart rate monitor available on the market, due to its distinct features like measuring speed, distance, calories burned, and auto-lap detection. The Timex Ironman Race Trainer is also a great choice due to its features like a chronograph, water resistance, and tracking of overall progress online. Finally, the Gaiam Touch SE336 has useful features like zone alert, calories and fat burned information, making it a smart choice if you are using the monitor to assist with your weight loss program.
Fintertip Sensor Heart Rate Monitors
Fingertip sensor models may be more comfortable and/or convenient for you. They don't require a chap around the chest, which some may find constrictive, and they are generally more affordable than the chest strap models. Suunto Ambit 2 features a compass and altimeter, which are perfect for training out on the trails, and the ability to share data with a variety of fitness apps for easy tracking and review of your training plan. The Timex Health Touch Plus is water resistant, making it a smart choice for swimmers or those who want to use swim as a cross training activity. It also tracks distance and calories burned. Mio Alpha offers continuous information on the go, unlike other strapless models in which you have to stop to view the heart rate data.
Choosing a Heart Rate Monitor For You
The style and brand of heart rate monitor you choose really depends on your goals and budget. If you are training hard for a specific event or events, or if you are on a sports team and need to remain at the top of your game, then you might consider springing for a higher end model that features higher accuracy and more features. On the other hand, if you are simply training for cardiovascular fitness and/or weight management, then a more basic model that includes calorie tracking might be just right.