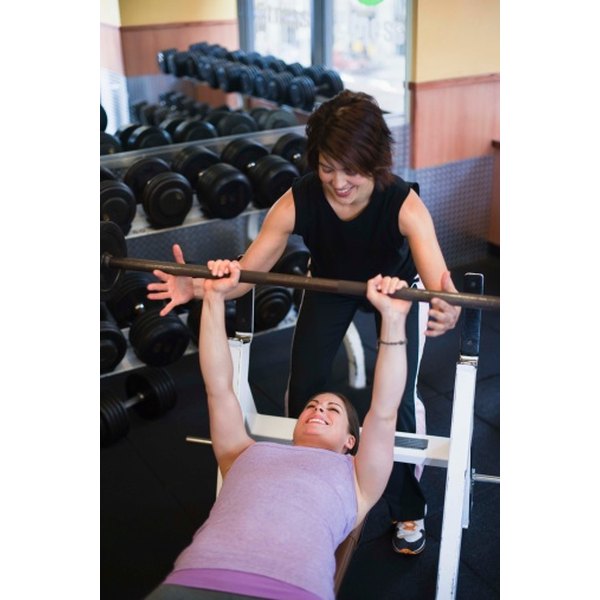 Education or training in exercise science can open doors to jobs and career paths that span personal training to medical doctor. Fitness workers held 261,100 jobs in 2008, a number that is expected to increase 29 percent between 2008 and 2018, reports the U.S. Bureau of Labor Statistics. Whether you want to work in a physical training environment, a lab or a health care facility, pursuing a career in exercise science and wellness is an option to consider if you're passionate about physical fitness and exercise.
Types
Jobs in exercise science and wellness are varied, encompassing many different aspects of fitness and physical training. Personal trainers often work for gyms or private clients, helping people develop exercise plans and teaching them how to perform certain exercises properly. Other jobs include fitness class instructors and fitness directors who oversee operations and assist or plan activities for personal trainers. Other exercise science and wellness professionals work as physical therapists, occupational therapists or rehabilitation directors to help patients with physical injuries or medical conditions regain strength, flexibility and physical function. Others may work as researchers or exercise physiologists who study the function of the body and how it responds to exercise and other physical stimuli.
Education/Training
The education and training required for exercise science jobs depends largely on the type of job. Therapists and rehabilitation specialists earn college degrees in their fields while studying anatomy, physiology, kinesiology and other scientific aspects of the human body. Personal trainers and other fitness workers often go through specialized training that relates to the type of exercise they teach. These classes require hundreds of hours of study, working with other trained teachers. Many groups offer certification for fitness workers, including the American Council on Exercise and American Fitness Professionals & Associates. Exercise physiologists can earn designation as a Registered Clinical Exercise Physiologist from the American College of Sports Medicine once they have earned at least a master's degree in exercise science, exercise physiology or kinesiology.
Salary
The median annual wage of fitness workers in May 2008 was $29, 210, according to the Bureau of Labor Statistics. Workers employed by medical and surgical hospitals made the most on average, with median annual wages of $32,140. Physical and occupational therapists can earn much more for their specialized degrees and education. Median annual wages for physical therapists in May 2008 were $72,790 for physical therapists and $66,780 for occupational therapists.
Considerations
Working a job in the exercise science field can lead to other related careers. For example, if you're interested in attending an advanced degree program to become an exercise physiologist, you may consider earning certification as a personal trainer or working toward a lower degree in exercise physiology or exercise science to enable you to work in the field first to see if it is a good fit for you. Several state and local governments and large corporations also hire fitness professionals for government-sponsored or employer-sponsored wellness programs.