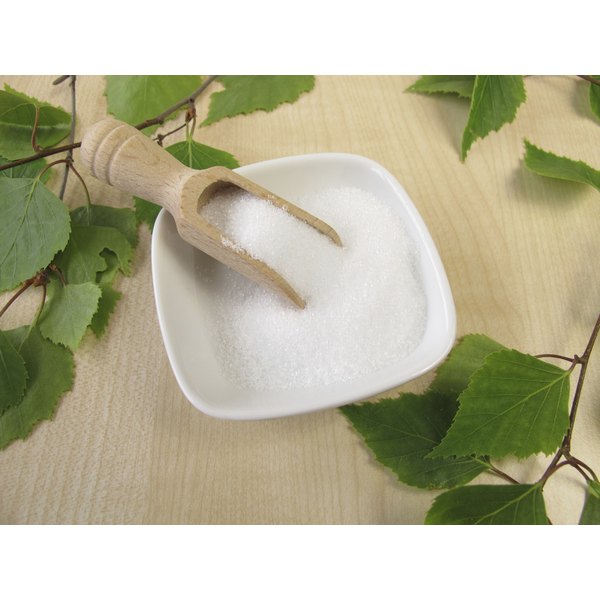 For some people, a meal is not complete without dessert. Unfortunately, the high sugar content found in many desserts -- including baked goods -- can lead to increases in blood sugar levels, weight gain, and the development of certain chronic health conditions, like heart disease. To cut the sugar content, you may use fruit purees, agave nectar, brown rice syrup or xylitol in your baking. Just remember that you may need to reduce fluids and lower the baking temperature when you use these substitutes.
Fruit Puree
Fruits are a healthy substitute that can be included in a number of baked goods. A cup of fruit puree in place of a cup of sugar increases the fiber content and can lower the calorie count in a baked good by as much as 500 calories. Choose fruits that are soft and offer a mild flavor -- such as bananas, figs and dates -- for optimal results when replacing sugar in baked goods. Combine these fruits with a small amount of water to create a puree before incorporating them in your recipe.
Agave Nectar
Agave nectar is a sweet syrup derived from the agave cactus. Although it offers a fair number of calories -- 60 in a single tablespoon -- its very sweet flavor means you won't need to use as much to sweeten your baked goods. In addition, agave nectar appears to have only minimal effects on blood sugar and insulin levels, making it a better choice for diabetics. When using agave nectar as a sugar substitute, reduce recipe liquids by a quarter-cup to a third-cup. Cut the temperature by 25 degrees Fahrenheit to further ensure baking success.
Brown Rice Syrup
Brown rice syrup -- which is produced when cooked brown rice is combined with barley or sprouted rice -- can also be used as a sugar substitute in baked goods. Brown rice syrup is not as sweet as sugar, notes Lundberg Family Farms, and may be needed in greater quantities than sugar while baking. In fact, bakers are encouraged to substitute 1 1/4 cups brown rice syrup for every cup of sugar called for in a recipe. Be sure to reduce the liquid in the recipe by two to three tablespoons, and add 1/16 teaspoon of baking soda to account for the extra liquid in the brown rice syrup.
Xylitol
Xylitol -- which looks and tastes like sugar -- is produced from the bark of birch trees. In addition to being low-calorie, xylitol is also low on the glycemic index, making it a safe and effective choice for diabetics who crave something sweet. Substitute xylitol in a one-to-one ratio when used as an alternative to sugar in baked goods. Be aware that xylitol can have a laxative effect, and should not be consumed in excess by those who are unfamiliar with the sugar substitute.