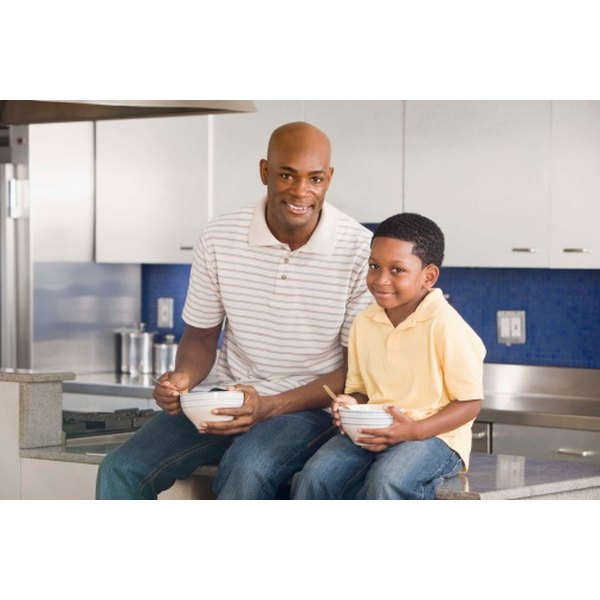 A healthy, balanced diet fuels the body and supports overall fitness. Children learn about healthy eating from health lessons and the observations of eating habits of others. Integrating nutrition activities and games into health class and at home gives children hands-on practice in healthy eating. The activities offer a more entertaining approach to healthy eating instruction, making them appealing to kids.
Nutrition Dramatic Play
Playing pretend in a dramatic play area means the kids put their healthy eating skills into action. Set up a healthy restaurant area as the play setting. A child-sized table and chairs and a play kitchen work well for the setting. Make your own menus that include lots of healthy meal options. The kids take turns preparing and serving the customers at the restaurant.
A farmer's market or store play area also fits the healthy eating theme. Arrange baskets and shelves of healthy play food. For inexpensive food, cut out food shapes from felt.Or, cut out two identical food shapes. Sew them together and add stuffing to the middle. For a more structured play option, make shopping lists that specify the quantity of each type of food. The kids gather the items exactly as the list says and put them in a basket or shopping bag.
Taste Test
A taste test encourages kids to try healthy foods. A blindfolded taste test adds a little excitement and mystery to this activity. Cut up several different foods. An assortment of fruits and vegetables works well, especially if you throw in some new produce that the kids haven't tried. The kids try one item at a time to guess what it is. Another option is to make a few healthy recipes and have the kids try to figure out what ingredients are in the dish.
Healthy Food Patterns
This nutrition game integrates the basic math concept of patterning. Cut out several healthy food shapes. You want several of each shape. For example, you might cut out 15 each of apples, oranges, carrots, bananas and potatoes. Laminate the shapes to make them more durable for multiple uses. Create the beginning of a pattern and have the kids finish it. An example would be banana, banana, apple, banana, banana, apple. The child would then continue that pattern. Once the kids get the hang of it, let them create their own patterns. Make it a partner activity by having one child start the pattern and the other finish it.
Food Pyramid Collage
The MyPyramid chart replaces the old food guide pyramid as a way to show consumers what types of food to eat. Instead of horizontal sections, each type of food has a vertical section on MyPyramid, with healthier foods like grains, fruits and vegetables having larger wedges. Draw a large triangle to represent the MyPyramid chart. The kids draw or cut out food images that represent each category. Have them glue the pictures into the corresponding section of the chart to create the collage. Display the collage as a reminder to the kids of what food they should eat.