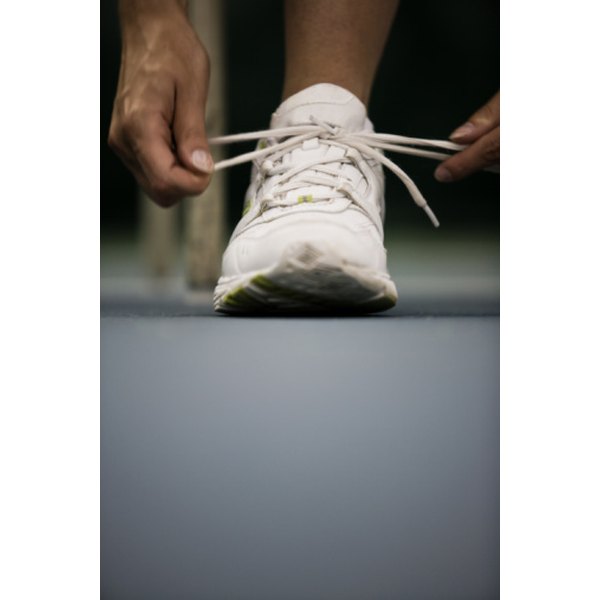 With a focus on durability, lightness and versatility to suit different court types, manufacturers often neglect comfort in the quest to create a popular tennis shoe. Whether you're practicing for long hours or find comfortable shoes to be paramount to your game, this limited focus may hinder your search for the perfect shoe. By reviewing a combination of online playtester reviews and professional endorsements, however, a comfortable, well-rounded tennis shoe is no longer impossible to find.
Men's Babolat Propulse 2 Titanium
Like the original Propulse, Babolat's Propulse 2 Titanium fits as comfortably in the store as it does on the court. With a comfortable fit and no painful break-in period required, the durability, traction and longevity of these Michelin-soled shoes may come as a surprise. Though nearly perfect, the one downside to these shoes is the sizing. As they do not start as stiff as most tennis shoes and thus do not require breaking in, playtesters recommend that you buy the Propulse 2 Titanium half a size larger than what you would normally wear.
Men's Adidas Barricade II
Though an updated version is available in the Barricade 6.0, the Barricade II is still widely regarded as one of the best men's tennis shoes by amateurs and pros alike. Like Babolat's Propulse 2 Titaniums, these shoes fit comfortably out of the box and require little-to-no time to break in. A well-rounded shoe, the Barricade II's main downside is the fit. Though the lengthwise fit is true-to-size, these shoes have little give and may feel snug if you're used to a wider shoe.
Women's HEAD Prestige Pro
Primarily known for their racquets, HEAD returned to shoe-making in 2008 with the Women's Prestige. The Prestige Pro is a lighter, more cushioned answer to its predecessor. Boasting great ventilation, these shoes can be worn out of the box without an uncomfortable break-in period. Introducing the Vi-Pod, a rubber shock-reducing unit, in the heel of the Prestige Pro, HEAD has greatly increased the comfort of the original Women's Prestige.
Women's Babolat Propulse Lady 2 Parma
Like the HEAD Prestige Pro, the Lady 2 Parma is a comfortable shoe that requires no time to break in. With Michelin soles similar to those of the Men's Propulse 2 Titanium, these shoes are as durable as they are comfortable. Though some playtesters complain that the Lady 2 Parmas run a bit small, these shoes are truer to size than their male counterparts. As always, it is recommended that you try a pair in store to ensure the best fit possible.