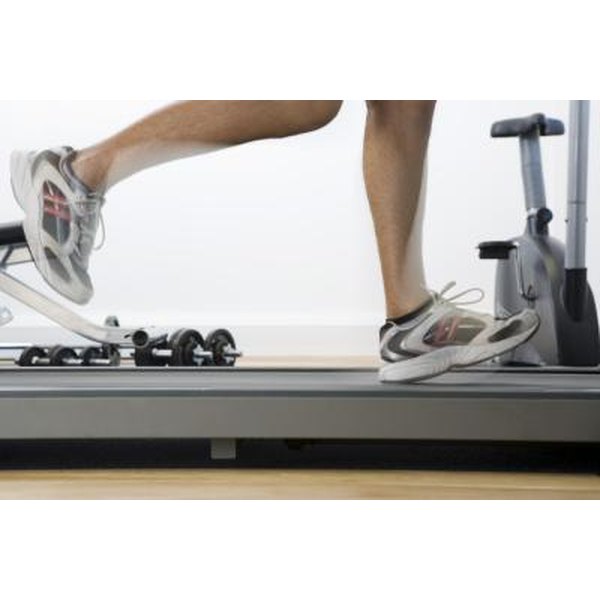 Nitric oxide is a gas molecule that is released within endothelial cells and plays a critical role in several functions in the body, including reducing inflammation, kidney function and oxygen transport. In addition, nitric oxide helps relax and dilate blood vessels, which increases blood flow in the body. This can have positive effects on blood pressure as well as heart health. Evidence indicates that changing your dietary and exercise program can increase nitric oxide levels in the body. Consult your health-care provider before taking any supplements.
Perform a moderate amount of aerobic exercise. Researchers from the University of Tsukuba in Japan investigated the impact of exercise on nitric oxide production in the body. Healthy young subjects performed aerobic training for 30 minutes, five days a week for three months. Nitric oxide levels were measured before and after the study. At the end of the study, which was published in the December 2004 issue of the journal "Hypertension Research," scientists observed that subjects performing aerobic exercise significantly increased their nitric oxide levels.

Eat dark chocolate. Lead investigator Karin Ried and fellow researchers from the University of Adelaide in Australia studied the impact of chocolate consumption on blood pressure levels. At the end of the two-week study, researchers found that chocolate lowered blood pressure by increasing the production of nitric oxide in the body. Researchers stated that chocolate contains flavonols, which are antioxidants responsible for elevating nitric oxide levels, according to research reported in the June 2010 issue of the journal "BMC Medicine."

Supplement with L-arginine and L-citrulline. These two amino acids might improve nitric oxide levels, according to a study conducted by lead author Edzard Schwedhelm and colleagues from the University Medical Centre Hamburg-Eppendorf in Germany. The report, which was published in the January 2008 issue of the "British Journal of Clinical Pharmacology," revealed that subjects taking 3 grams each of L-arginine and L-citrulline per day for one week experienced increases in nitric oxide levels compared to those taking a placebo. These amino acids are generally safe taken at this dosage, but might cause digestive upset in some people.

Warnings

Watch your portions when consuming chocolate -- even though it's healthy, it contains calories that can contribute to weight gain. Substitute it for other high-calorie snacks to avoid consuming too many calories.