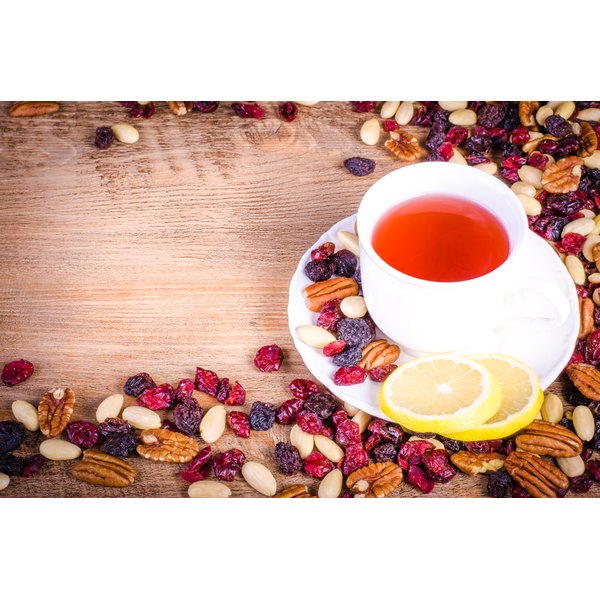 Cranberry hibiscus is an edible plant from the hibiscus family. It is a hearty bush originally from Africa and is named "cranberry" because of its deep red coloring. Its coloring as well as leaf shape closely resemble a maple tree leaf. The scientific term for cranberry hibiscus is Hibiscus acetosella. Other names include: False Roselle, Maroon Mallow and Red-shield hibiscus. More and more recipes and food items include this plant's leaves because of its health benefits.
Vitamins
The hibiscus plant, in general, is accredited as a rich source of vitamin C. This is especially beneficial to add to your winter days when you may need more of that vitamin C boost. Though not as potent, hibiscus also contains vitamin B-3 which is also called niacin, and B-2, or riboflavin. The B vitamins are known to give you more energy throughout the day, another added benefit to cranberry hibiscus.
Antioxidants
The cranberry hibiscus, like other hibiscus, is an excellent source for antioxidants because of its vitamin C content. Including antioxidants in your diet helps keep you healthy. Some research supports the claim that anthocyanins, the antioxidant found in hibiscus, helps fight cancer, improve the functioning of your liver and lowers cholesterol levels. The recommended daily dosage of anthocyanin from the hibiscus extract is 250 mg.
Additional Health Benefits
The vitamin C and antioxidant power give plenty of reason to incorporate the zesty taste of hibiscus in your diet. There are also other added health benefits. Hibiscus extract or leaves provide a source of iron and and calcium. Hibiscus is also associated with lowering blood pressure. The extract can be used as an antiseptic to cleanse cuts and scraps. It has also been associated with healing ailments from indigestion, anxiety and scurvy when taken as an elixir.
Cranberry and Hibiscus Combination
You may also see cranberries and hibiscus combined into cranberry-hibiscus teas, smoothies and medicinal elixirs. Note that this does not necessarily include the "cranberry hibiscus" but certainly contains beneficial nutrients. The blend, which typically uses extract from the leaves of the Roselle hibiscus, is rich in antioxidants. Both cranberries and the Roselle hibiscus provide an excellent source of vitamin C. This combination is often recommended to boost and support your immune system.
Cautions
Little research and testing has been done on the safety of consuming hibiscus leaves. Pregnant or breast-feeding women as well as children should use extra caution. Follow the recommended dosage for adults: 10 mg of dried leaves. There is also some concern that hibiscus can interfere with the body's ability to metabolize acetaminophen. Consult with a physician if you plan to include hibiscus leaves or extract in your diet.